Quieter Than Killing (D.I. Marnie Rome 4)
Why a Booktrail?
2000s: This time, it's personal
What you need to know before your trail
DI Marnie Rome's crime unit this time are faced with a series of vicious assaults which she believes may be connected. Each of the victims has committed a crime or two of their own and so Marnie and some of the team start to think that maybe someone thinks it's payback time. The victims are hardly talking – those that can that is, and not all would want to it would seem. However it soon gets a lot worse and a lot more serious when one of the victims dies from his injuries – now, this is a murder investigation.
When Marnie's family home is ransacked, there are signs that the burglary can have only been committed by someone who knows her. Then a child goes missing, yet no-one has reported it. Suddenly, events seem connected, and it's personal.
Travel Guide
Hilary's London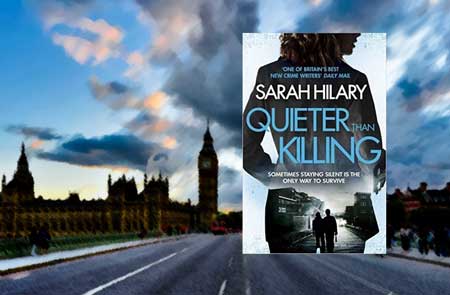 This is London on its knees, fighting for survival, fighting to live another day. Those in the run down estates and the poor downtrodden areas live in areas that are little more than fighting rings. Only the survival of the fittest is the order of the day here.
Danger lurks on every corner and menace rears its head as the novel takes you down into the shadows of London life. When an investigation in the city you live and work in creeps ever closer to home, the thrill of honing in on the criminal must soon turn to horror and fear.
This London is so grim that the police start to draw up a map of murder and injuries – one victim with a shattered eye socket becomes pin number two. All pins lead to St Thomas Hospital where the victims are taken. Then there is Page Street:
"Page Street was apartments built like a toddler's first attempt at stacking bricks, in alternating blocks of grey and white. Security gates gave the place a penitentiary air not helped by the trio of kids kicking a bald tennis-ball around the paved courtyard.Not the nice spot Noah had imagined: hard to believe they were a short walk from the Houses of Parliament"
Booktrailer Review
Susan: @thebooktrailer

I always look forward to the next Sarah Hilary. I know Im going to head straight to the kind of London I would never want to visit for real, but with Marnie her detective, I'm right there . I might even be  a few steps ahead of her if it weren't for the frightening and chilling situations she gets herself involved in.

What really works for me is the multilayered angle to the stories – Marnie must have one of the most interesting and compelling backstories in crime fiction. Marnie's relationship with her foster brother, Stephen – the same brother who has been imprisoned for the brutal murder of her parents…like a car crash you know it's going to be gory reading but I just couldn't take my eyes of this.
This book is complex and busy but never hard to navigate   – theres many key key players and secondary characters interwoven into this puzzle – deception, betrayal, vigilantism, violence and the haunting past.
There's a lot more buried where that came from if you excuse the pun. This is a dark dark world Sarah Hilary places you in but it's the literary equivalent of being kicked in the teeth and loving it. Even with all my teeth now gone,  this book still has bite.

Quieter than Killing – a clever title and a ver clever cliff hanger…
Booktrail Boarding Pass Information:  Quieter Than Killing (DI Marnie Rome #4)
Author/Guide: Sarah Hilary ( Destination: London  Departure Time: 200os
Back to Results