Holiday in the Hamptons
Why a Booktrail?
2000s: Who fancies a holiday in the Hamptons?
What you need to know before your trail
Professional dog-walker Felicity Knight loves everything about New York…until her ex-husband starts working at her local vet clinic. She hasn't seen Seth Carlyle in ten years, but one glimpse of him – too gorgeous, and still too good for her – and Fliss's heart hurts like their whirlwind marriage ended yesterday. So when her grandmother in The Hamptons needs help for the summer, it seems the perfect way to escape her past…
Their relationship might only have lasted a few scorching months, but vet Seth knows Fliss – if she's run away to The Hamptons, it's because she still feels their connection and it terrifies her. He let her go once before, when he didn't know any better, but not this summer! With the help of his adorable dog Lulu, and a sprinkling of beachside magic, Seth is determined to make Fliss see that he's never stopped loving her…
Travel Guide
Visiting anyone in the posh and glitzy Hamptons area of New York doesn't sound like much of a hardship but when you're running from a bad ex husband it's more of an escape than a retreat. When she realises that it's also the place where her ex now lives, it's definitely not going to be the escape she' hoped for
But the Hamptons are favoured by many New Yorkers as a getaway and a hideaway and the people who live there? Fliss' grandmother? Well she has secrets too.
Strolling along one of the many Hamptons beaches with a nice dog strolling beside you doesn't feel like a hardship and its the way Fliss tries to relax and take time to think. After a troubling past, sometimes a removal from your old life and old haunts might just be the tonic you need – even if someone from your past does show up.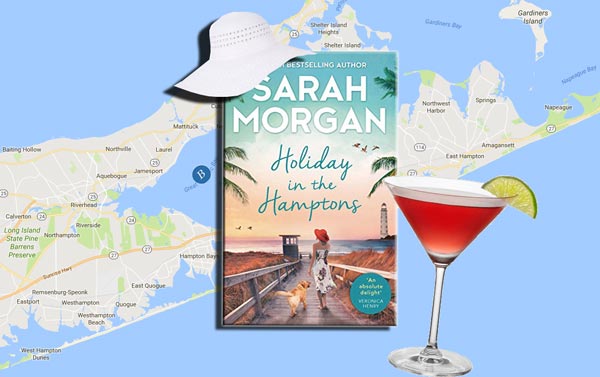 Booktrailer Review
Susan: @thebooktrailer

Just what you need when it's supposed to be summer but it's actually raining. When summer is just around the corner…Off to the Hamptons we go – and what should be a retreat and a getaway imagine how you would feel if your ex turned up? It's the wit and charm of Sarah Morgan that weaves a serious story with emotional impact with a story of hope and starting over. It became more emotional as I read and was quite sad in parts! But the backdrop of the Hamptons shines with promise and hope and I could imagine myself there in the sun, walking along the white sandy beaches just wondering who in this glitzy life style might just have the same or worse problems that you or I. The story seemed more emotional because of the setting but Sarah's wit and sparkle brings it nicely together.
Booktrail Boarding Pass: Holiday In The Hamptons
Author/Guide: Sarah Morgan  Destination: The Hamptons  Departure Time: 2000s
Back to Results