Betrayal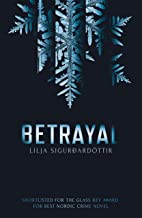 Why a Booktrail?
2000s: An high level government role is not the place for a woman…or is it?
What you need to know before your trail
Burned out and traumatised by her horrifying experiences around the world, aid worker Úrsula has returned to Iceland. Unable to settle, she accepts a high-profile government role in which she hopes to make a difference again.
But on her first day in the post, Úrsula promises to help a mother seeking justice for her daughter, who had been raped by a policeman, and life in high office soon becomes much more harrowing than Úrsula could ever have imagined. A homeless man is stalking her – but is he hounding her, or warning her of some danger? And why has the death of her father in police custody so many years earlier reared its head again?
As Úrsula is drawn into dirty politics, facing increasingly deadly threats, the lives of her stalker, her bodyguard and even a witch-like cleaning lady intertwine. Small betrayals become large ones, and the stakes are raised ever higher…
Travel Guide
Welcome to the political world of Reykjavik
This is the dark side of Iceland and Icelandic politics. This is not the world that anyone would really want to work in. Unless you were a man on the inside. A woman on the inside has little to no chance it would seem. It's into this world that Ursula comes. Given a top level job (for only for a year) she sets to bring about change and a few answers for past wrongs. Yet outside the office, the dark streets are lying in wait. A homeless tramp seems to be stalking her. Police chase a suspect across a bridge. Even an empty car park looks menacing.
Then there is a cleaner who works in the office with her. What does she see that she shouldn't? Are the dangers to Ursula's life closer to home? This novel reveals the cut throat of politics, where women are not safe, where everyone is a pawn in someone else's game and where nothing is what it seems.
Iceland is chilling here, its capital's streets covered in snow and ice. Icelandic politics are the landscape which is the most chilling of all.
Booktrailer Review
Clever, twisty and a story that will resonate for many  – it's not just the world of politics that is cut-throat.
BookTrail Boarding Pass: Betrayal
Destination/location: Reykjavik Author/guide:  Lilja Sigurdardóttir Departure Time: 2000s
Back to Results