The Thief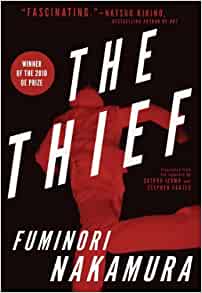 Why a Booktrail?
2000s: See if you can spot the thief in the Tokyo crowds
What you need to know before your trail
The Thief is a seasoned pickpocket. Anonymous in his tailored suit, he weaves in and out of Tokyo crowds, stealing wallets from strangers so smoothly sometimes he doesn't even remember the snatch. Most people are just a blur to him, nameless faces from whom he chooses his victims. He has no family, no friends, no connections…. But he does have a past, which finally catches up with him when Ishikawa, his first partner, reappears in his life, and offers him a job he can't refuse. It's an easy job: tie up an old rich man, steal the contents of the safe. No one gets hurt. Only the day after the job does he learn that the old man was a prominent politician, and that he was brutally killed after the robbery. And now the Thief is caught in a tangle even he might not be able to escape.
Travel Guide
Travel around Tokyo with the Thief
The novel takes place around the subway, shops and streets of Tokyo. There are numerous places mentioned and you get to see the hustle and bustle of the Japanese city from some very interesting and criminal eyes. It's a unique view of any city and from a busy city such as Tokyo, it's very interesting to see how people can do things such as pickpocket so easily in plain sight.
This is the underbelly of Tokyo and is a kind of guide of what to look out for when you are in crowds.
BookTrail Boarding Pass: The Thief
Destination/Location: Tokyo   Author:  Fuminori Nakamura   Departure: 2000s
Back to Results