Survive the Night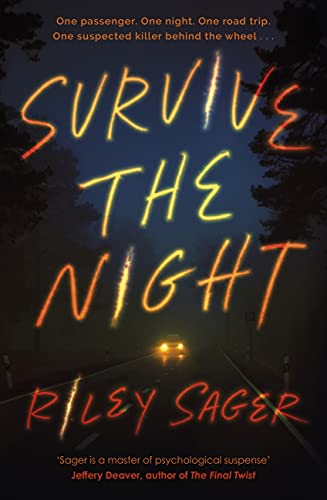 Why a Booktrail?
1993: A roadtrip with a serial killer
What you need to know before your trail
1993: Charlie Jordan is being driven across the country by a serial killer. Maybe.
Behind the wheel is Josh Baxter, a stranger Charlie met by the college ride share board, who also has a good reason for leaving university in the middle of term. On the road they share their stories, carefully avoiding the subject dominating the news – the Campus Killer, who's tied up and stabbed three students in the span of a year, has just struck again.
Travelling the lengthy journey between university and their final destination, Charlie begins to notice discrepancies in Josh's story.
As she begins to plan her escape from the man she is becoming certain is the killer, she starts to suspect that Josh knows exactly what she's thinking.
Meaning that she could very well end up as his next victim.
A game of cat and mouse is about to play out. In order to win, Charlie must do only one thing . . . survive the night.
Travel Guide
From a college campus in New Jersey all the way to Ohio
Be prepared for the car journey you will never forget. You'd hope that fleeing college after a serial killer is roaming your campus, might be a good idea. However, what if the man driving you to Ohio is the one responsible for the deaths? The tension is key here as we are in 1991 so there are no mobile phones, no way of calling for help when you are in the car alone with a stranger.
The 1990s background with the music and political references really help to backdate the novel In time but put the action right at the heart of here and now.
BookTrail Boarding Pass: Survive the Night
Destination: New Jersey to Ohio  Author/guide: Riley Sager  Departure Time: 2000s
Back to Results