Summer Island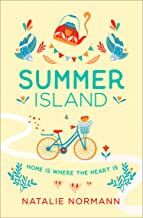 Why a Booktrail?
2000s: Let's head to Summer Island off the coast of Norway
What you need to know before your trail
Summer Island off the coast of Norway was the place London chef Jack Greene should have been from. He's an outsider in the community that should have been his family, and now he's setting foot on the strange land he has inherited for the first time.
Ninni Toft, his nearest neighbour, has come to the island to mend her broken heart. With her wild spirit and irrepressible enthusiasm, she shows city-boy Jack the simple pleasures of island life – and what it means to belong. To a place. To a people. To one person in particular…
Home is where the heart is, but is Jack's heart with the career he left behind in London, or on the wind-swept shores of Summer Island, with Ninni?
Travel Guide
Welcome to Summer Island, Norway
Summer Island in the book is Sommerfoy Island in reality. It's a lovely place and is evoked with style in the novel from the moment one of the characters arrives there:
"This was the best place on earth. Her grandparent's old house was the safe harbour she always returned to. The only place to nurse a broken heart."
"In a few weeks, the small harbour would teem with boats of all sorts, from sailing boats and fancy yachts to fishing boats and rowing boats."
There's an island corner shop, a landhandel and a pier, and most of the houses on the iland are painted white. There's also a bookshop which I was very happy to hear!
Booktrailer Review
A fun summer read
BookTrail Boarding Pass: Summer Island
Destination/location: Norway., Sommerroy  Author/guide: Natalie Normann Departure Time: 2000s
Back to Results