One of the Girls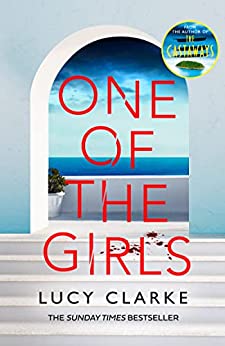 Why a Booktrail?
2000s: Are you DYING for a holiday?
What you need to know before your trail
The six of us arrived on that beautiful Greek island dreaming of sun-drenched beaches and blood orange sunsets, ready to lose ourselves in the wild freedom of a weekend away with friends.
On the first night we swam under a blanket of stars.
On the second night the games began on our clifftop terrace.
On the third night the idyll cracked, secrets and lies whispering on the breeze.
And by the final night there was a body on the rocks below . . .
Travel Guide
Fictional Greek Island of Aegos
The story is set on Aegos, a fictional Greek Island . I had to look this up as it felt very realistic and I could picture it clearly,
The scenery is stunning, the sun is shining and the water as blue as blue can be.
You will hear the waves crashing on the cliffs as the characters talk, worry and something goes very wrong indeed. There are also sunnier moments where you get to visit the locatl market town and the atmosphere within the party itself. This is supposed to be the perfect Greek Getaway right?
Before that, there were good moments  – even beautiful ones – like sharing dishes of tzatziki and glistening olives beneath the Greek sun.
BookTrail Boarding Pass:  One of the Girls
Destination/Location: Greece, Fictional Island of Aegos   Author: Lucy Clarke  Departure: 2000s
Back to Results