Date with Danger (Dales Detective 5)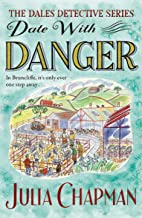 Why a Booktrail?
2000s: In the heart of Yorkshire, the Dales Detective Agency is about to face its biggest challenge.
What you need to know before your trail
A fatal accident at Bruncliffe's livestock auction mart leads auctioneer Harry Furness to call in detective duo Samson O'Brien and Delilah Metcalfe, but what starts as a simple health-and-safety investigation soon takes a sinister turn when they discover evidence that suggests murder.
With their enquiries ongoing, Clive Knowles approaches them for help – his sheep are being threatened by the gang of rustlers that is plaguing the Dales. Meanwhile, Poacher Pete Ferris has also decided to play his hand, setting in motion a blackmail plot which will ensure Samson is pulled back into trouble with his nemesis Rick Procter.
With all three cases converging, Samson and Delilah will find that their latest investigation is fraught with danger; a danger that will leave them fighting for their lives.
Travel Guide
Ah the best thing about Yorkshire, evoked with humour in this novel, is the gorgeous scenery, the sense of freedom, community and return to the simple things in life. Living off the land is good for many and and an escape for others.
Best get the kettle on, Yorkshire Tea of course and settle in. There is no Bruncliffe in real life sadly but Skipton which is real is only 30 minutes away from it so visiting Skipton would be a very good alternative to the real thing. There is, as yet, no Dales Detective Agency nor is there a Dales Dating Agency but fingers crossed!
Bruncliffe might seem quiet yet surprisingly busy and gossipy behind the scenes. Farming is still the main activity for many but there are financial problems and people are struggling. Here you get to see what happens at a sheep and livestockmarket ( well with an added 'event' of murder of course!)
Booktrailer Review
Susan

This series is really really good! It's set in such gorgeous surroundings and the characters are fun and quirky. I love the mix of day to day life, countryside goings on in the village and farms, countryside worries and quirks. This outing takes us to a livestock market and it's not the simple affair you might expect. A murder!

This really is a lovely series. It's comforting without being saccharine and funny to the point that you want to get a dog like  Toldpuddle and head out to Bruncliffe in the hope that you might bump into one of the characters. There's still a lot of intrigue and mystery here though and it seems that the countryside is not as jolly or as calm as you might think. Enough of serious and light-hearted to carry you along whatever mood you are in.

I genuinely smile when a new book jumps into my hands as I miss Bruncliffe when I'm not there!
Booktrail Boarding Pass: Date with Danger  (The Dales Detective 5)
Destination: Yorkshire Dales Author/Guide: Julia Chapman  Departure Time: 2000s
Back to Results