Bury Them Deep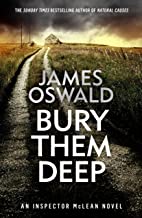 Why a Booktrail?
2000s: If you don't go down to the Edinburgh woods today…..
What you need to know before your trail
When a member of the Police Scotland team fails to clock-in for work, concern for her whereabouts is immediate… and the discovery of her burnt-out car in remote woodland to the south of Edinburgh sets off a desperate search for the missing woman.
Meanwhile, DCI Tony McLean and the team are preparing for a major anti-corruption operation – one which may raise the ire of more than a few powerful people in the city. Is Anya Renfrew's disappearance a co-incidence or related to the case?
McLean's investigations suggest that perhaps that Anya isn't the first woman to have mysteriously vanished in these ancient hills. Once again, McLean can't shake the feeling that there is a far greater evil at work here…
Travel Guide
BookTrail the locations in McLean's Edinburgh
This is a man who knows and sometimes hates the streets of the Scottish Capital. The city is well evoked in this one with the stunning landscapes of Salisbury Crags and Arthurs Seat.
Now head a little south in this one to the woods and reservoir of Gladstone. A woman is found here in a burned out car. This area is famous for tales deep in Scottish Folklore and over many years, tales of women going missing.
One of these involves cannibal Sawney Bean and his family, brought back from Ireland so that he could be hanged locally without trial. James I was on the throne at the time.
Current day, these forested areas are being besieged by fire and Edinburgh is experiencing an unprecedented heatwave. The atmosphere is dry, hot and humid. Then there's Bestingfield Secure Psychiatric Hospital…..
BookTrail Boarding Pass: Bury Them Deep
Destination/location: Edinburgh  Author/guide: James Oswald Departure Time: 2000s
Back to Results