Wilderness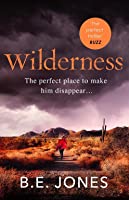 Why a Booktrail?
2000s: Two weeks, 1,500 miles and three opportunities for her husband to save his own life.
What you need to know before your trail
Shattered by the discovery of her husband's affair, Liv knows they need to leave the chaos of New York to try and save their marriage. Maybe the road trip they'd always planned, exploring America's national parks – just the two of them – would help heal the wounds.
But what Liv hasn't told her husband is that she has set him three challenges on their trip – three opportunities to prove he's really sorry and worthy of her forgiveness.
If he fails? Well, it's dangerous out there. There are so many ways to die in the wilderness; accidents happen all the time.
And if it's easy to die, then it's also easy to kill.
Travel Guide
Travel BookTrail style across America
Imagine travelling across the USA, through some of the hottest, most inhospitable and remote settings. Utah, Arizona and California host some of the most stunning national parks and woodlands in the world but they are remote. Travelling through them in a car means you probably won't see anyone for miles and miles, hours and hours. Anything could happen…. Who would hear you scream?
Perfect settings for fear and isolation. Contrasts well to the large city of New York which never sleeps. The busy, noisy streets and the noise of the traffic. Then we have the desert and the silence. Fascinating contrast. Silence can be deafening.
As you travel alongside Liz and Will as they pass through so many remote areas on their road trip, you have access to her thoughts and inner monologue which is fascinating and dangerous…..
BookTrail Boarding Pass: Wilderness
Destination/location: Arizona, Utah, California, New York City  Author/guide: B E Jones Departure Time: 2000s
Back to Results