Unmarked Graves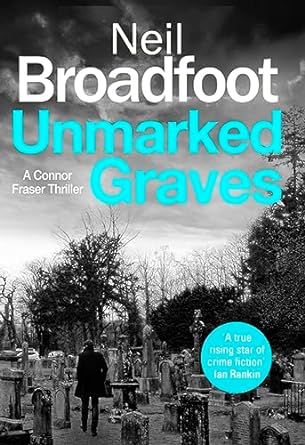 Why a Booktrail?
1983, 2023: Can a killer ever be on the side of justice?
What you need to know before your trail
In 1983, Professor Robert Balfour was found floating in Airthrey Loch at the heart of Stirling University's campus. His death was deemed a tragic accident but there were other, darker rumours. The death of a politics professor allegedly linked to the armed wing of the Scottish Liberation Brigade was always going to attract conspiracy theories.
But that's all they were. Theories. Until now.
To mark the 40th anniversary of his father's death, Jonathan Rodriguez has travelled back to Stirling – and he's brought a camera crew with him. Rodriguez is convinced his father's death was no accident – and that at least one of the killers wore a uniform. Desperate to make the problem go away, DCI Malcolm Ford turns to Connor Fraser for help. And then another body is found at nearby Bannockburn.
On the trail of a double killer, Connor is forced to confront dark truths about the meaning of justice. And those truths may just break his heart – or stop it, for good.
Travel Guide
Stirling
Interesting locations this time round with the loch in the centre of the university grounds being a focus of the plot. We also have a  case in nearby Bannockburn which of course is the site of a very important Scottish battle.
The Battle of Bannockburn is widely considered a landmark moment in Scottish history. In June 1314, the army of Robert the Bruce, King of Scots, and the army of King Edward II of England fought the First War of Scottish Independence. Robert Bruce came out victorious  but the war didn't finish until 14 years later with the de jure restoration of Scottish independence under the Treaty of Edinburgh–Northampton.
Booktrail Boarding Pass: Unmarked Graves
Destination: Stirling, Edinburgh  Author/Guide: Neil Broadfoot Departure Time: 1983, 2023
Back to Results