The Prisoner's Wife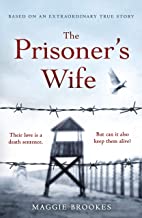 Why a Booktrail?
1944: Their love is a death sentence. But can it keep them alive?
What you need to know before your trail
In the dead of night, a farm girl and a British soldier creep through abandoned villages. Secretly married and on the run, Bill and Izabela are searching for Izabela's brother and father, who are fighting for the Czech resistance. They know their luck will not last. Captured by the German army, it seems they must be separated – but they have prepared for this moment. By cutting her hair and pretending to be mute, Izabela successfully disguises herself as a British soldier. Together, they face the terrible conditions of a POW camp, reliant on the help of their fellow POWs to maintain their fragile deception. Their situation is beyond dangerous. If Izabela is discovered, she and Bill – and all the men who helped them – will face lethal consequences.
Travel Guide
A true story set in a POW camp in Czechoslovakia
A novel set in war-torn Czechoslovakia amid the extreme privations of a prisoner of war camp, based on a true story of passion, heroism and a love that transcends overwhelming odds.
Brookes states in her author's note at the end of the book that she was inspired to write the book after talking to an English POW like the ones in the book.  He told her about a woman who had hidden amongst the men in order to be with her husband. She continued to research and investigate the story but sadly wasn't able to find out more. The story is fictional but could be true and is representative of so many experiences.
BookTrail Boarding Pass: The Prisoner's Wife
Destination/location: Czechoslovakia  Author/guide: Maggie Brookes Departure Time: 1944
Back to Results