The Last To Know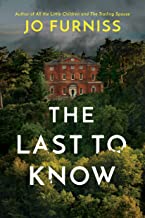 Why a Booktrail?
2000s: Sometimes houses have more than one secret…
What you need to know before your trail
American journalist Rose Kynaston has just relocated to the childhood home of her husband, Dylan, in the English village of his youth. There's a lot for Rose to get used to in Hurtwood. Like the family's crumbling mansion, inhabited by Dylan's reclusive mother, and the treacherous hill it sits upon, a place of both sinister folklore and present dangers.
Then there are the unwelcoming villagers, who only whisper the name Kynaston—like some dreadful secret, a curse. Everyone knows what happened at Hurtwood House twenty years ago. Everyone except Rose. And now that Dylan is back, so are rumors about his past.
When an archaeological dig unearths human remains on the hill, local police sergeant Ellie Trevelyan vows to solve a cold case that has cast a chill over Hurtwood for decades.
As Ellie works to separate rumor from fact, Rose must fight to clear the name of the man she loves. But how can Rose keep her family safe if she is the last to know the truth?
Travel Guide
Travel to Shropshire BookTrail style
Hurtwood and Hurtwood House are, as you might imagine, fictional. Jo Furniss lived in Singapore for many years before returning to Shropshire and settling down in a new place and a new house. One day out walking, she came across a hill fort with a farm perched on top. The information board there said that the area used to become an island when the river flooded. She knew right away that she had to set a story here in this strange landscape.
There are many forts in and around Shropshire which you can and should visit. One is close to Berrington Hall which might well be Hurtwood House, or at least you can imagine it is.
BookTrail Boarding Pass: The Last To Know
Destination/location: Shropshire  Author/guide: Jo Furniss  Departure Time: 2000s
Back to Results