The Last to Disappear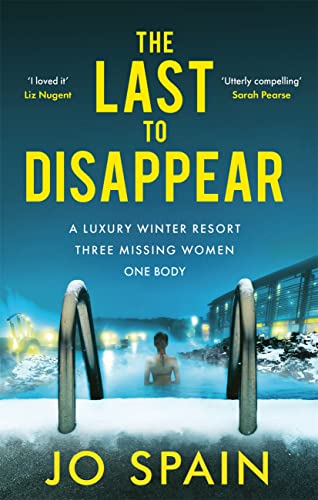 Why a Booktrail?
2000s: A luxury resort. Three missing women. One body.
What you need to know before your trail
When young London professional Alex Evans is informed that his sister's body has been pulled from an icy lake in Northern Lapland, he assumes his irresponsible sister accidentally drowned. He travels to the wealthy winter resort where Vicky worked as a tour-guide and meets Agatha Koskinen, the detective in charge. Agatha is a no-nonsense single mother of three who already thinks there's more to Vicky's case than meets the eye.
As the two form an unlikely alliance, Alex also begins to suspect the small town where his sister lived and died is harbouring secrets. It's not long before he learns that three other women have gone missing from the area in the past and that his sister may have left him a message.
On the surface, Koppe, Lapland is a winter wonderland. But in this remote, frozen place, death seems only ever a heartbeat away.
Travel Guide
Finland
This thriller takes place  in Finnish lapland. The town of Koppe mentioned in the story is fictional but it is very close to Rovaniermi where much of the novel also takes place.
Rovaniemi is where the police work from and where the morgue is but you may want to go to the museums instead of here or the police station.  Agatha stays in the Nordic hotel but there are only Scandic hotels in the city and a few to choose from at that!
Lake Inari is very real and very beautful but this is where Jo Spain has placed her crime scene. Imagine such a crime scene here! This is the third-largest lake in Finland and is regulated at the Kaitakoski power plant in Russia. Did you get a shock when Agatha parks her car on thick ice? The time the lake freezes solid is normally between November and early June.
There are some 300 islands in the lake – the best-known one is called Hautuumaasaari ("Graveyard Island"), which served as a cemetery for ancient Sami people.
BookTrail Boarding Pass: The Last to Disappear
Destination/Location: "Koppe", Rovaniemi, Finland  Author: Jo Spain  Departure: 200os
Back to Results