The Inner Darkness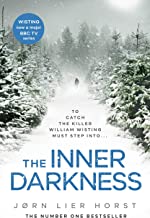 Why a Booktrail?
2000s: Fourth in the Cold Case series  and inspiration for the hit BBC4 show WISTING
What you need to know before your trail
After four years behind bars, notorious serial killer Thomas Kerr is ready to talk. And Chief Inspector William Wisting is ready to listen.
But as Kerr leads the police to his final victim's grave, the expedition goes horribly wrong when he escapes deep into the Norwegian forest.
Then another body is found. Murdered in the same way as Kerr's victims, but killed weeks before his escape.
Is there a copycat killer on the loose?
Did he help Kerr to escape?
And what will happen once the two murderers reunite?
Travel Guide
Travel BookTrail style to Jorn Hier Lorst's Norway
There are two main settings in this novel. The first one is the dark, creepy woods around Eftang which is said to be some 1250 acres of countryside to the south of Oslo. This is evoked in chilling style when the police take a criminal to the scene of his crime so that he can identify the area, the graves and more besides. This is going to help the police – well not in this case.
The woods are overgrown, the area vast and tricky to police, navigate and get free from once you are in the thick of it.
The rural areas such as River Dramna and the Strømsås Tunnel are places where surveillance is not going to be easy…
Oslo
The police, KRIPO and the other locations are located in the capital city as in other books. It's the rural areas which are the focus here.
Booktrailer Review
This is perhaps the most evocative and immersive chase in a forest I've ever read in a book. When a serial j=killer is lead to a crime scene but then goes on the run, all the bets are off.

It's a gripping and hard series of cases with many bodies found across Oslo. A great edition to the Cold Case Quarter as you get to leave Oslo and then get out to the country….but that is even more deadly than the city it would seem.

Norwegian Noir fans will enjoy this!
BookTrail Boarding Pass: The Inner Darkness
Destination/location: Oslo, Vikken  Author/guide:  Jørn Lier Horst  Departure Time: 2000s
Back to Results