The Darkest Sin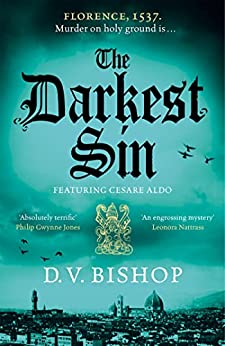 Why a Booktrail?
1537: You would think you were safe inside a covent….
What you need to know before your trail
When Cesare Aldo investigates a report of intruders at a convent in the Renaissance city's northern quarter, he enters a community divided by bitter rivalries and harbouring dark secrets.
His case becomes far more complicated when a man's body is found deep inside the convent, stabbed more than two dozen times. Unthinkable as it seems, all the evidence suggests one of the nuns must be the killer.
Meanwhile, Constable Carlo Strocchi finds human remains pulled from the Arno that belong to an officer of the law missing since winter. The dead man had many enemies, but who would dare kill an official of the city's most feared criminal court?
As Aldo and Strocchi close in on the truth, identifying the killers will prove more treacherous than either of them could ever have imagined . . .
Travel Guide
The Convent of Santa Maria Magdalena
The convent is ficitonal of course but the street where it is located is real and therea are plenty of churches and religious buidings to imagine a convent tucked away here. The street is narrow and mysterious and you can almost hear the bells of the convent, see Cesare Aldo run along it to the next mystery and the nuns flocking outside in the early morning, or praying in the gardens beyond…..
BookTrail Boarding Pass: The Darkest Sin
Destination/location: Renaissance Florence  Author/guide: D. V. Bishop Departure Time: 1536
Back to Results