Ritual of Fire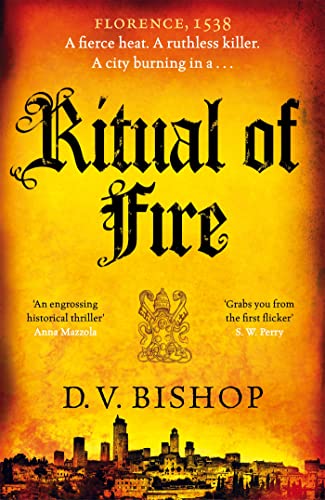 Why a Booktrail?
1538: Ceremonial murder has returned to Florence. Only two men can end the destruction
What you need to know before your trail
A night patrol finds a wealthy merchant hanged and set ablaze in the city's main square. More than mere murder, this killing is intended to put the fear of God into Florence. Forty years earlier, puritanical monk Girolamo Savonarola was executed the same way. Does this new killing mean his fanatical disciples are reviving the monk's regime of holy terror?
Cesare Aldo is busy hunting thieves in the Tuscan countryside, leaving Constable Carlo Strocchi to investigate the killing. When another merchant is burned alive in public, the rich start fleeing to their country estates. But the Tuscan hills can also be dangerous.
Growing religious fervour and a scorching heatwave drives the city ever closer to madness. Meanwhile, someone is stalking those powerful men who forged lifelong bonds in the dark days of Savonarola.
Unless Aldo and Strocchi work together, all of Florence will be consumed by an inferno of death and destruction.
Travel Guide
Florence 1538
The city is evoked with style and a whole good lot of stench. This is a city burning under the hot weather and stinking from the rot within. As well as the rubbish and the dirty streets, the city is awash with corruption and poverty.
There is a fire in one of the main squares and it soon becomes apparent that the city is on edge as a secret society from the past could well be here again in the present. The author evokes the city with all of your senses and it's brutal and vivid:
" Strocchi strode towards Piazza della Signoria as dawn coloured the sky, softening the dark to a mottled bruise of blue and black. He smlled the fire before reaching the square: burning wood, meat and oil."
The novel opens in the middle of the Tuscan hills and we have a visit to San Jacopo al Girone which is a small visit with a potentially large secret. The countryside is where the rich go to escape but this novel shows that even in the gorgeous green hills of Italy, darkness and danger can lurk.
BookTrail Boarding Pass: Ritual of Fire
Destination: Florence, Tuscany  Author/guide: David V Bishop Departure Time: 1538
Back to Results