The Chemical Reaction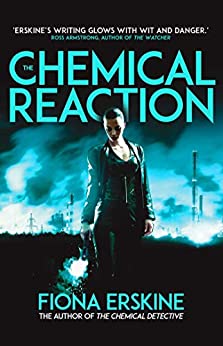 Why a Booktrail?
2000s: Have you met The Chemical Detective? This is book two.
What you need to know before your trail
After escaping almost certain death amidst the ruins of Chernobyl, Jaq finds herself in even hotter water. Deep in debt, she decides to take on a risky contract in China. But when her former student and the chemical factory she was meant to be investigating both mysteriously disappear, she realises nothing is as it seems.
From fraudulent art auctions in London to a troupe of male strippers in Shanghai, the mystery of the vanishing factory begins to look ever more complicated as the days pass. Can Jaq work out what happened – and whether it has anything to do with her nemesis Frank Good – before time runs out?
Travel Guide
Around the world with The Chemical Reaction
The settings are vast in this novel and some give the plot away a bit so only the main ones covered here:
The author outlines some points  of interest:
Banqiao, Henan, China
I have a special l interest in industrial accidents because we unless we understanding exactly how and why they happened, we risk allowing history to repeat itself. Each of the books in the Jaq Silver series has a man-made disaster at its core.
I visited the Banqiao Reservoir and Hydroelectric dam one late summer day with two Chinese work colleagues. The corn harvest was drying in the sun as we took a boat out onto the calm water. In such a sleepy and beautiful place, it was hard to comprehend just how dangerous water can be. In 1975 after a freak rainstorm, the original built dam burst and as many as a million people died.
Shanghai, China
The first time I visited Shanghai, my whole world view changed. I had been involved with international projects before, but I was unprepared for the speed or ambition of China. The juxtaposition of old and new is breath-taking. You can walk from the 1559 Ming dynasty Yu Garden of Happiness, past the 19th century banks and insurance buildings that line the Bund, the walkway beside the Huangpu  river. From the Puxi side you can look up to the incredible skyscrapers on the Pudong side, rising over 600m into the heavens. At night they are decorated with the most fantastic, ever changing, light shows.
BookTrail Boarding Pass: The Chemical Reaction
Destination/location: London, China, Crimean sea, Russia  Author/guide: Fiona Erskine  Departure Time: 2000s
Back to Results