On the Edge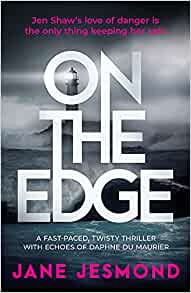 Why a Booktrail?
2000s; Rock climbing in Cornwall. Danger lies everywhere.
What you need to know before your trail
Jen Shaw has climbed all her life: daring ascents of sheer rock faces, crumbling buildings, cranes – the riskier the better. Both her work and personal life revolved around climbing, and the adrenaline high it gave her. Until she went too far and hurt the people she cares about. So she's given it all up now. Honestly, she has. And she's checked herself into a rehab centre to prove it.
Yet, when Jen awakens to find herself drugged and dangling off the local lighthouse during a wild storm less than twenty-four hours after a 'family emergency' takes her home to Cornwall, she needs all her skill to battle her way to safety.
Travel Guide
Cornwall and the fictional setting in On the Edge
The novel is set in the fictional village of Craighston in Cornwall. Cornwall comes across loud and clear with the rough winds, dramatic cliffs and that lighthouse. The weather and the extreme climbing which the main character likes to do bith complement each other. There is a keen sense of wild, raw and unspolit landscape here, a place in the world where there are few people and where nature rules. Good for people like  Jen Shaw who loves to climb in wild and untamed areas.
The author mentions that many places in the novel do exist but that places around St Austell and Fowey do not. More excuse to visit as much of Cornwall as you can to see the places which could have inspired the plot!
BookTrail Boarding Pass: On the Edge
Destination/Location: Cornwall   Author: Jane Jesmond  Departure: 2000s
Back to Results