Malibu Rising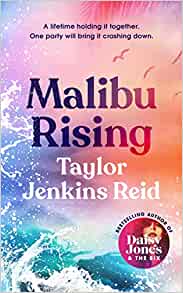 Why a Booktrail?
1980s: One unforgettable party in Malibu…
What you need to know before your trail
Malibu: August, 1983. It's the day of Nina Riva's annual end-of-summer party, and anticipation is at a fever pitch. Everyone wants to be around the famous Rivas: Nina, the talented surfer and supermodel; brothers Jay and Hud, one a championship surfer, the other a renowned photographer; and their adored baby sister, Kit. Together, the siblings are a source of fascination in Malibu and the world over-especially as the offspring of the legendary singer, Mick Riva.
By midnight the party will be completely out of control.
By morning, the Riva mansion will have gone up in flames.
But before that first spark in the early hours before dawn, the alcohol will flow, the music will play, and the loves and secrets that shaped this family's generations will all come bubbling to the surface.
Travel Guide
Discover Malibu with Taylor Jenkins Reid
Malibu is in the novel more as a background and setting, a time and place rather than a character. it sets the scene of a beach party, where surfing rules and where the sun always rises. The sun also sets on a fair few issues with a certain family….
"Beach houses are crammed along the side of the highway competing for views, narrow and tall".
We see the change from the small town it used to be when Malibu was a rural fishing town to the surfing capital it is in the present day storyline. There's mention of beaches, bikinis, surfing and the spirit of being young again.
Plenty of nods to nostalgia of the 1980s and various names of drinks and cocktails to help set the scene and place the story in the 1980s.
BookTrail Boarding Pass: Malibu Rising
Destination/location: Malibu  Author/guide: Taylor Jenkins Reid Departure Time: 1980s
Back to Results