In Place of Fear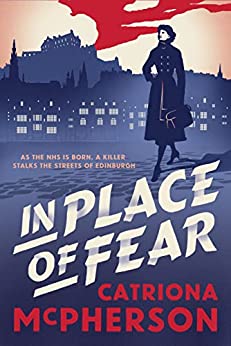 Why a Booktrail?
1948: Authentic social history at the birth of the NHS
What you need to know before your trail
Edinburgh, 1948. Helen Crowther leaves a crowded tenement home for her very own office in a doctor's surgery. Upstart, ungrateful, out of your depth – the words of disapproval come at her from everywhere but she's determined to take her chance and play her part.
She's barely begun when she stumbles over a murder and learns that, in this most respectable of cities, no one will fight for justice at the risk of scandal. As Helen resolves to find a killer, she's propelled into a darker world than she knew existed, hardscrabble as her own can be. Disapproval is the least of her worries now.
Travel Guide
Edinburgh 1919
The story evokes living conditions for the poor in Edinburgh at the time that the war was ending. These were the times that the NHS was starting to form and it's fascinating to see an institution we all rely on and often take for granted, having a starring role in a novel.
The city at the time was not as it is now. The poor had to live in crowded and often insanitary housing. They had to rely on whatever food they could get their hands on and as a result their diet is not as good as it could be. This in turn means that there are many health issues being dealt with at the time that  not the same as those today luckily.
There is a key to the Scottish dialect at the back of the book you may want to read before tucking into the main story:
'She couldn't stop the weans from palling around the back greens and the front streets, although she told Helen not to give killycodes if she could help it'
BookTrail Boarding Pass: In Place of Fear
Destination/location: Edinburgh Author/guide: Catriona McPherson  Departure Time: 1919
Back to Results