First Born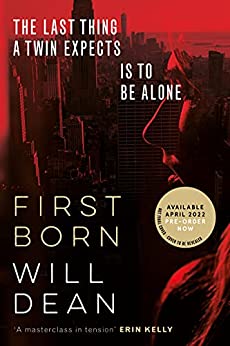 Why a Booktrail?
2000s: They say identical twins have a bond that can never be broken….
What you need to know before your trail
Molly lives a quiet, contained life in London. Naturally risk averse, she gains comfort from security and structure. Every day the same.
Her identical twin Katie is her exact opposite: gregarious and spontaneous. They used to be inseparable, until Katie moved to New York a year ago. Molly still speaks to her daily without fail.
But when Molly learns that Katie has died suddenly in New York, she is thrown into unfamiliar territory. Katie is part of her DNA. As terrifying as it is, she must go there and find out what happened. As she tracks her twin's last movements, cracks begin to emerge. Nothing is what it seems. And a web of deceit is closing around her.
Travel Guide
The New York of Will Dean
This is of course the city that never sleeps. Well, the novel ironically enough, will rob you of yours. It's a city where every street, food cart, park and building could hold a clue to what led to the death of one twin. She was found in her apartment. Her sister, mother and father come to the city and stay in one its many hostels. From there we criss-cross the city with the twin sister as she meets shadowy characters, friendly strangers as she asks questions. She heads up to Columbia university to follow leads which brings the dark side of academia to the fore.
There are many locations and sites mentioned in the book. Great flavour of New York but not the side the tourists see. This is a city where clues are everywhere but there's also red herrings to avoid in this maze like metropolis.
Booktrailer Review
Top class thriller alert right here! This book isn't out until next year but I was lucky enough to have a early copy and unlucky enough to not be able to sleep last night so…. A perfect storm for a Dean Delight.

Twins. Identical twins. There's always something delicious about their inner emotions and mind sets, right. Certainly in this book. One has died in New York apparently murdered. The other twin flies to NY with her parents in an attempt to find out.

The city of New York comes to life here It is a major character in the book as every street, college dorm, cafe and park become points of interests, meetings, shadowy places that might give a clue as to what happened to the first born.

The difference between the twins in personality and character is markedly so. They might be carbon bopies of each other in appearance but wait until Will Dean gets inside his characters heads and then gets you, the reader, to to do the same. A first person narrative adds to the crackle and sharpness with which this novel is written. You are inside the mind of the twin looking for her sister. Navigating the twists and shadows of a city that never sleeps. The city appears alarming, unfriendly, ready to attack…. and into this Will Dean brings a heck of a twisty thriller. I said at the beginning that I couldn't sleep before reading this novel. Well, it hardly made it easy afterwards but at least I have a good excuse now for looking weary.

There's a line about the city being vertical and so you have to look up to see it. True enough but in the Dean version of NY, you have to look every which way. Red herrings on the floor, shadows to your left and a ticking time bomb in your head.

I thought I had things figured out at around 70%. Haha NOPE.

I imagine that Will Dean is now stroking his beard laughing like that man at the end of the Thriller soundtrack. He's written a book that keeps you awake ironically set in the city that never sleeps. There has to be an award for this level of evil genius.
Booktrail Boarding Pass:  First Born
Destination/location : New York City Author/Guide: Will Dean  Departure Time: 2000s
Back to Results