Ella's Ice-Cream Summer
Why a Booktrail?
2000s: When life gives you lemons… make ice-cream!
What you need to know before your trail
Ella has never had a particularly easy time of it as single mother but she has just hit an all-time low; she has no job, very nearly homeless and, to make matters worse, the only even hint of love in her life (apart from her child that is) is the owner of a pocket-sized pooch with a better wardrobe than her.
Wanting to get away from it all, she sets off for the seaside town of Appledore in Devon to re-live the magical summers of her youth and claim her portion of the family ice-cream business: a clapped-out ice-cream van and a complicated mess of secrets.
There she meets gorgeous and free-spirited solicitor, Ben, who sees things differently: with a little bit of TLC he has a plan to get the van – and Ella – back up and running in no time.
Travel Guide
Ice Cream in Appledore – Hockings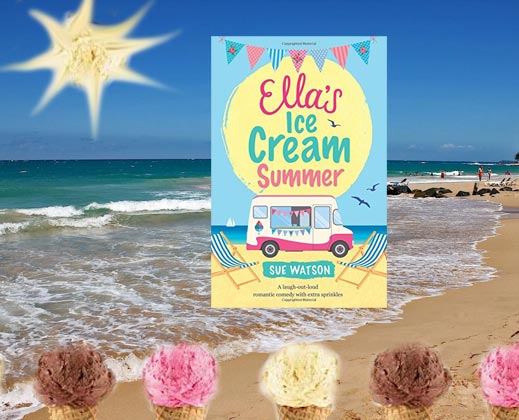 This is probably the very type of icecream van Ella ends up driving. The old fashioned ones that look as if they belong in the 1920s or something. The company run yellow classic ones and they are always spotted in and round the area. the ice-cream is second to none and is very highly recommended!
Appledore
A small little village in Devon  not far from Barnstaple and just down the coast from Ilfracombe. So a real Devon feast of a place to go and find the ice cream vans of the story. Might not be Ella driving and there might not be a pomeranian by the name of Delilah but you'll still have a lovely time. Ella's mum had moved here from Italy with her family and she had grown up with ice-cream and it has now become a family business and a great love. Ah the making of ice cream and getting the Italian flavours is a labour of love and the possibility of keeping that tradition going is a lovely thought and a way of keeping the art of it going as well as the nice memories that and other families had as a child.
Ah and it's such a  lovely village with the scent of strawberry ice-cream, marshmallows and sprinkles on the top floating in the air. Delectable!
Booktrailer Review
Susan: @thebooktrailer

First of all, Appledore is a real place. A Real Place. Just remember that.

Delilah the Pomeranian has to be one of the most adorable characters in fiction I've come across in a while. The other one I liked was Ella who returns to Devon in order to resurrect the old ice cream van business.  Running a Ice Cream business in Devon has to be one of the nicest ideas you can imagine – the aromas, the hot sandy days, the jingle of bells in the summer breeze….now that's got to mend a broken heart right?
Roberta's mum – well she's a right hoot – give the woman her own book or TV show right now! Ah this was just the nicest bunch of characters I've had the pleasure to meet. I was right there with them and inside their adventures in dear old Appledore. The setting reminded me of country village mixed with Harry Potter and there was more than enough magic in the pages.
Delightful and even if you're not a huge ice cream fan like me,  you' lick this up in one delightful scoop
Back to Results