Confetti at the Cornish Café
Why a Booktrail?
2000s: Cornwall is the perfect setting for a wedding! Third in the Penwith Trilogy
What you need to know before your trail
Cal and Demi are preparing to launch their beloved Kilhallon Resort as a wedding venue. Cakes are baking, Cornish flowers are blooming, and fairy lights are twinkling. With the cliff-top setting and coastal views, it's the perfect place for a magical marriage ceremony.
But their first clients are no ordinary couple. The bride and groom are internationally famous actors Lily Craig and Ben Trevone. Kilhallon is about to host a celebrity wedding . . .
Can Demi and Cal  keep their guests happy and avoid any wedding disasters? Is the unpredictable weather the only thing standing in the way of the Big Day?
It's certainly going to be a wedding to remember
Travel Guide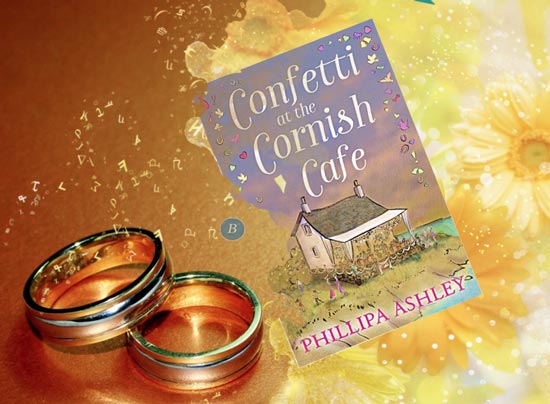 The stunning background of the Cornish coast is the setting for the third installment in the Cornish trilogy story about new beginnings and new opportunities.  St Trenyan is apparently in West Cornwall, and largely inspired by St Ives. So whilst the setting might be fictional, you can have great fun trying to find the traces of St Trenyan all around you!
There's some lovely places here such as Sheila's Beach Hut,  and Hayleigh's Pasty shack. St Trenyan is already postcard blue and it's a village where the masts of the boats bob up and down in the harbour.
This book focuses on the Kilhallon Resort which Cal and Demi have worked on since the beginning of the trilogy so it's nice to see how the building work has been going and the future of the resort as a magical wedding setting! There is a real life holiday resort just outside of the town – set in lovely lush green fields so why not stay at Trevalgan touring park and think you're in the novel!
Penwith
The series of novels is known as the Penwith series of novels and the real Penwith is the peninsula known as Land's End Peninsula.  Tin and copper have been mined in the area since pre-Roman times and the landscape is dotted with ruined mine buildings. The principal towns in Penwith are Penzance, the "capital" and St Ives, one of the county's most popular seaside resorts.
Booktrailer Review
Clare: @thebooktrailer

This cheered me up this weekend – Cornish sunshine and a visit back to St Trenyan where I've already spent two holidays with Philippa Ashley's characters. This time I got to see the famous Kilhallon Resort again and it was the star of the show! The setting for a celebrity wedding no less. This was a lovely ending to the series and also the deepest one so far as there are a lot of loose ends tied up with character stories and more.

Even though the location is fictional it is largely based on St Ives and it;s no hardship imagining the fun Philippa must have had creating this with the natural setting at her disposal.  It's been a charming read and a series I enjoy for the simple pleasure it gives when reading. As with weddings in general, particularly celebrity ones, things never go to plan and I liked the mix of old characters and new being brought together and their stories being nicely tied together in a ramshackle wedding bouquet.

Not everything gets tied up though and there may be another visit to St Trenyan? A lovely book for the beach (Cornish one of course)
Booktrail Boarding Pass:  Confetti at the Cornish Café
Author/Guide Phillipa Ashley  Destination: Cornwall (fictional St Trenyan) Departure Time: 2000s
Back to Results