Cast a Cold Eye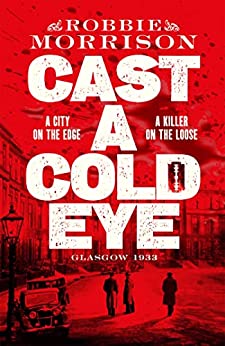 Why a Booktrail?
1933: Murder is nothing new in the Depression-era city.
What you need to know before your trail
Murder is nothing new in the Depression-era city, especially to war veterans Inspector Jimmy Dreghorn and his partner 'Bonnie' Archie McDaid. But the dead man found in a narrowboat on the Forth and Clyde Canal, executed with a single shot to the back of the head, is no ordinary killing.
Violence usually erupts in the heat of the moment – the razor-gangs that stalk the streets settle scores with knives and fists. Firearms suggest something more sinister, especially when the killer strikes again. Meanwhile, other forces are stirring within the city. A suspected IRA cell is at large, embedded within the criminal gangs and attracting the ruthless attention of Special Branch agents from London.
With political and sectarian tensions rising, and the body count mounting, Dreghorn and McDaid pursue an investigation into the dark heart of humanity – where one person's freedom fighter is another's terrorist, and noble ideals are swept away by bloody vengeance.
Travel Guide
Glasgow 1930s
This is the view of Glasgow you don't get to see in real life. Imagine the tourist board trying to sell this angle of the city! It's raw, real and very very dark. Think Peaky Blinders with added bite.
The locations within are not those you would want to visit – in the book is fine. Of course, they are very different now. The Tollbooth Steeple has seen it all ! Nice to travel outside the city to the iconic Kelvin Aqueduct.
Forth and Clyde Canal – This links the east coast of Scotland with the west, and where Jimmy Dreghorn and Bonnie Archie McDaid discover a corpse on a narrowboat, kicking off the plot of the novel.
Central Police Headquarters, Turnbull Street, Glasgow, the station which Dreghorn and McDaid operate out of, and which still exists today, but is, sadly, a pale, virtually derelict shadow of the building it was in 1933.
The famous Saracen's Head pub, across the road from the even more famous Barras Market, where Dreghorn and McDaid arrest a crook on the run and encounter the mysterious Conall Tracy for the first time.
The St. Enoch's Hotel, modelled upon St Pancras in London, but demolished in the 1970's, where WPC Ellen Duncan apprehends a dangerous villain, humiliating a group of chauvinistic male detectives in the process.
BookTrail Boarding Pass: Cast a Cold Eye
Destination/location:  Glasgow  Author/guide:  Robbie Morrison Departure Time:1933
Back to Results