ATLAS The Story of Pa Salt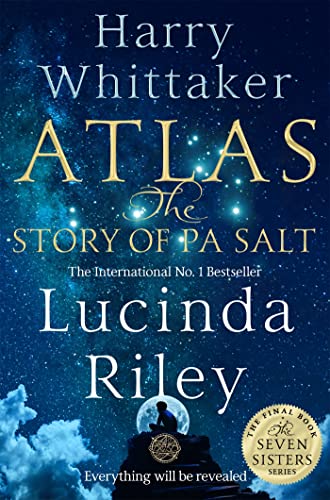 Why a Booktrail?
1928, 2008: The final novel in The Seven Sisters series is here.
What you need to know before your trail
1928, Paris. A boy is found, moments from death, and taken in by a kindly family. Gentle, precocious, talented, he flourishes in his new home, and the family show him a life he hadn't dreamed possible. But he refuses to speak a word about who he really is.
As he grows into a young man, falling in love and taking classes at the prestigious Conservatoire de Paris, he can almost forget the terrors of his past, or the promise he has vowed to keep. But across Europe an evil is rising, and no-one's safety is certain. In his heart, he knows the time will come when he must flee once more.
2008, the Aegean. The seven sisters are gathered together for the first time, on board the Titan, to say a final goodbye to the enigmatic father they loved so dearly.
To the surprise of everyone, it is the missing sister who Pa Salt has chosen to entrust with the clue to their pasts. But for every truth revealed, another question emerges. The sisters must confront the idea that their adored father was someone they barely knew. And even more shockingly: that these long-buried secrets may still have consequences for them today.
Travel Guide
Around the world with Lucinda Riley
This book contains so many wonderful locations from all of the previous books in the series that your head will spin. Every one is lovingly revisited and its part in the story comes clearer as you read. The Seven sisters each came from a different part of the world and we get to revisit them and see them through the eyes of Pa Salt when he was a young boy.
Lake Geneva is the central location where the story starts and ends and it's truly wonderful to see Atlantis being built and made into the wonderful home it becomes.
Norway is special as that's where The Storm Sister took us. To come here through the eyes of Pa Salt and to see why the location and people were so special is particularly wonderful.
Spain – Granada – a special place for the rich history and language and where Pa Salt meets someone very special.
Paris is the magical setting where the story starts and where the story of The Seven Sisters first started and where we find how Pa Salt's story continued to Rio and the building of the Christ the Redeemer statue.
What a wonderful tour where locations are key to the story and key to the identity of fhe Seven sisters.  Stunning in every way! If you get  a chance to go to any of these locations, do it!
BookTrail Boarding Pass: Atlas The Story of Pa Salt
Destination: worldwide Author/guide: Lucinda Riley, Harry Whittaker Departure Time: 1928 – 2008
Back to Results