All of Us Are Broken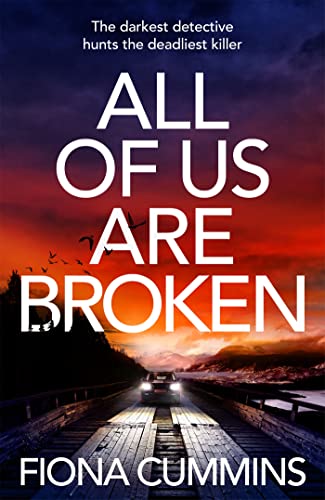 Why a Booktrail?
2023: A crime novel that Bonnie and Clyde would be proud of.
What you need to know before your trail
It's been a long time since the Hardwicke family has been on holiday. But thirteen-year-old Galen has wanted to see the wild dolphins at Scotland's Chanonry Point for as long as she can remember, and her mother Christine – a lone parent since her beloved husband left – is determined she gets her wish. But their serene trip is about to be interrupted.
When DC Saul Anguish is called to investigate the shooting of an ex-police officer in Midtown-on-Sea, Essex, he quickly discovers that this is the first in a string of killings by Missy and Fox, a damaged young couple hell-bent on infamy, their love story etched in blood. In pursuit, Saul follows their trail north.
The paths of the Hardwickes' and the deadly couple are about to collide. When Saul and his forensic linguist partner, Blue, arrive on the scene, they witness the unthinkable: a mother forced to make an impossible choice.
Saul must uncover the truth about the couple. But can he find the strength to lay the ghosts of his past to rest before they break him?
Travel Guide
Scotland – Channery Point
This bayside outcrop with a lighthouse is popular for observing bottlenose dolphins & grey seals. It's where thirteen-year-old Galen has wanted to see the wild dolphins for as long as she can remember,
The author points out that not all of the locations are real of course. There is no pub in Oxton and the police station at Lauder is not maned in real life. The places are there fictionally of course.
Midtown on Sea is not real.
BookTrail Boarding Pass: All of Us Are Broken
Destination/location: Scotland, Essex  Author/guide: Fiona Cummins Departure Time: 2023
Back to Results