Adios, Hemingway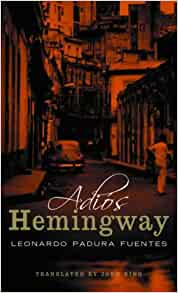 Why a Booktrail?
1958: The Cuba of Ernest Hemingway
What you need to know before your trail
A classic detective story that explores the last years of Hemingway's life, evoking both Cuba and this giant of American letters with enormous skill and wit. When the bones of a man murdered forty years earlier surface on the Havana estate of Ernest Hemingway, writer and ex-cop Mario Conde is called in to investigate. As he unearths the truth of the night of 3 October 1958, he is forced to come to terms with a very different side to his former literary hero.
Travel Guide
The  Cuba of Ernest Hemingway
Padura Fuentes switches between Conde's world and that of Hemingway's Cuba four decades earlier; in the heat and rum haze, the two seem slowly to merge. In an extraordinary journey into the past and into the personality of one of the twentieth century´s most enigmatic and powerful writers.
Hemingway seems to be a hero to many Cubans due to his links and appreciation of the Revolution. Hemingway was heavily involved in the Spanish Civil War. He travelled to Cuba in 1939, and so was then during the guerrilla war that brought Castro to power, in 1959. He left the country in around 1961 and went to his cabin in Idaho where he committed suicide.
This book looks at the writer's life in Cuba and his role in the revolution. It's fun to see the fictional detective walk beside Hemingway.
BookTrail Boarding Pass: Adios, Hemingway
Destination/location: Havana, Cuba  Author/guide:  Leonardo Padura  Departure Time: 1950s
Back to Results