A Harmless Lie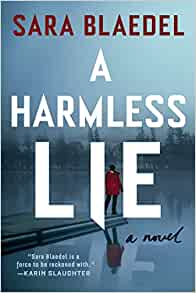 Why a Booktrail?
2022:Louise Rick can't escape her past
What you need to know before your trail
Detective Louise Rick is on a beach in Thailand when the panicked call from her father comes through. Louise′s beloved brother, Mikkel, has attempted suicide. His wife, Trine, left him days earlier, walking out the door one day with no warning and leaving Mikkel devastated.
Louise rushes home to Osted, the small, insular Danish town where she grew up and where Mikkel still lives. But the more Louise learns about Trine—a devoted wife and the mother of two young children—and her state of mind in the days before she left Mikkel, the more Louise begins to wonder whether Trine really meant to leave him. Or whether something much darker may have taken place.
As the local police begin to suspect that Mikkel may have had a hand in Trine's disappearance, Louise struggles to clear his name but is forced to confront some hard truths: Small towns always hide secrets. The past always comes back to haunt you. And lies are never harmless.
Travel Guide
Osted
A small and unassuming voillage in the middle of Denmark. This is where Louise Rick is from and where she returns from Thailand to indorder to find out what has happened to her brother.
This contrasts well with the Thailand mention as she was on holiday in paradise but is thrown back into real life and back to the village where she grew up . This takes her back in more ways than one.
Nice to visit a quaint Danish village and see what dark corners it can have.
BookTrail Boarding Pass:A Harmless Lie
Destination/Location:  Osted, Denmark  Author: Sara Blaedel Departure:2000s
Back to Results