Zodiac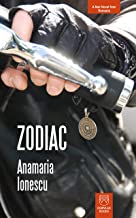 Why a Booktrail?
2000s: Romanian Noir!
What you need to know before your trail
When investigator Sergiu Manta is handed the investigation into a series of bizarre murders, he can't sure what he's getting involved in as he has to work with regular detective Marius Stanescu, who has his own suspicions about the biker he has been told to work with, and wants to get to the truth. The twists and turns of their investigation takes them from the city of Bucharest to the mountains of rural Romania, and back.
Travel Guide
Travel to Romania with the Zodiac and Romanian Noir
In "Zodiac" main locations are Bucharest and Voineasa. Here the author talks about the main settings:
Bucharest is the capital of Romania. The secret agency headquarters are in the central area of the city on the shore of Dambivta city. It so happens that a very famous Romanian crime writer, a lady called Rodica Ojog Brasoveanu used to live in a building there. Oktoberfest, the pub Sergiu and Dragos have a drink in is at real as it can be. It is in the historical center of Bucharest. There are actually two such bars in the city in real life. The one in the novel is on  Selari street.
The Finnish Club in the novel is across the street, where Alina, the girl he hooks up with works. (It has since closed)
Gotica
This is a real shop as well. I used to buy my clothes from them. In the novel I've put them back to their old location as they've since moved but I liked the old one better.
Titan neighbourhood 
The apartment where Sergiu lives is in a neighborhood known as Titan. It is considered to be a very nice area to live  in Bucharest.
Voineasa
Most of the action takes place in Voineasa, a tourist town in the mountains. It used to be a very popular destination for holidays in the communist era. Now its popularity has fallen a bit because of the roads in the area aren't very good. But it is a very beautiful place.
Vidraru/ Voineasa.
At the beginning of Zodiac, Sergiu Manta is recovering from a previous job in Vidraru, a small place, not far from Voineasa. The mark of the place is one of Romania's most important dams, an engineering jewelry. There is a symbolic statue of Prometeus that I described in the book.
Sinai
One of the murders takes place in a very fancy mountain resort on the Prahova Valley. There is the Peles castle, one of the Romanian Royal family's  former residences.
BookTrail Boarding Pass: Zodiac
Destination/location: Romania, Bucharest, Voinesa Author/guide:  Anamaria Ionescu   Departure Time: 2000s
Back to Results