Tragedy on the Branch Line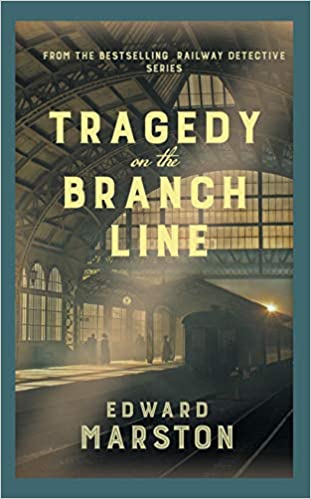 Why a Booktrail?
1863:  A man rushes off a train only to lie dead seconds later on the platform
What you need to know before your trail
When Bernard Pomeroy finds a letter slipped under his door in the early hours, he flies into a panic. After dashing off a short note to a friend, he hands it to the porter at Corpus Christi College before hastening on to the railway station and boarding a train leaving Cambridge. However, shortly after disembarking at his destination, the undergraduate lies dead on the platform.
Inspector Colbeck and Sergeant Leeming are summoned by the Master of the college to investigate Pomeroy's untimely demise. With the Boat Race on the horizon, the president of the Cambridge Boat Club believes their Oxford rivals are responsible for the death of their talented cox. Yet it seems Pomeroy had ruffled many feathers during his short time at the university.
With academic disputes, sporting rivalry and a clandestine romance in play, the Railway Detective will have to disentangle the many threads of Pomeroy's life in order to answer the truth about his death.
Locations
Reset
England - Cambridgeshire - Cambridge
England - Suffolk - Bury St Edmunds
Travel Guide
Cambridge
The Boat Race is an annual set of rowing races between the Cambridge University Boat Club and the Oxford University Boat Club.
The men's race was first held in 1829 and has been held annually since 1856, and the first women's event was in 1927. This novel looks at the competition between the teams and the rivalry that can result. Of course, this is fiction but you get a sense of the pride involved as well as the practice and hard work to be the best and win the race.
Bury St Edmunds
Bury St Edmunds was an old saxon town half a mile from the station.
It is described as a modest market town but as soon as Leeming gets there he is annoyed by all the hansom cabs and horses but if you go today there will be no such traffic, well at least not like that in the book. Of course, it's at this station where a body is found and where the whole mystery starts.
BookTrail Boarding Pass: Tragedy on the Branch Line
Destination/Location: Cambridge, Bury St Edmunds  Author: Edward MarstonDeparture: 1863
Back to Results