This Wild, Wild Country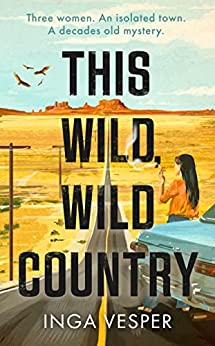 Why a Booktrail?
1933, 1970: Three women. An isolated town. A decades-old mystery.
What you need to know before your trail
1933. Cornelia Stover is headstrong and business-minded – not the kind of woman the men of Boldville, New Mexico, expect her to be. Then she stumbles upon a secret hidden out in the hills . . .
1970. Decades later, Joanna Riley, a former cop, packs up her car in the middle of the night and drives west, fleeing an abusive marriage and a life she can no longer bear. Eventually, she runs out of gas and finds herself in Boldville, a sleepy desert town in the foothills of the Gila Mountains.
Joanna was looking for somewhere to retreat, to hide, but something is off about this place. In a commune on the outskirts a young man has been found dead and Joanna knows a cover up when she sees it. Soon, she and Glitter, a young, disaffected hippie, find themselves caught up in a dark mystery that goes to the very heart of Boldville, where for too long people have kept their eyes shut and turned their heads away. A mystery that leads them all the way back to the unexplained disappearance of Glitter's grandmother Cornelia forty years before . . .
Travel Guide
Boldville, New Mexico
The town of Boldville is fictional but it's very atmospheric and a typical town of the region.
It's a small and  quiet town, and was once very popular as  a destination during the gold rush. However, since then, it has become something empty and abandoned. The locals are sad and regreftul of the fact that their wealth has now gone and that their town is not on the map as it once was.
There are things no one talks about here and somethings that the residents really want to keep to themselves.
"They hate me down there, in Boldville. I can read it in their eyes, smell it on their noxious breaths. That dreaded little town hates everything about me: not just my personality and form, the clothes I wear, but the way I think.
The things that I know."
BookTrail Boarding Pass: This Wild, Wild Country
Destination/Location:Boldville, New Mexico  Author: Inga Vesper Departure: 1933,1970
Back to Results