The Whitstable Pearl Mystery
Why a Booktrail?
2000s:  A lovely coastal town celebrates the annual oyster festival..
What you need to know before your trail
Pearl Nolan has always wanted to be a detective but instead has found herself running a successful seafood restaurant in her coastal home town of Whitstable – famous for its native oysters.
With son Charlie away at university, Pearl finds herself needing something to do. When she finds the drowned body of local oyster fisherman Vinnie Rowe, weighted down with an anchor chain, on the eve of Whitstable's annual oyster festival, it might just bring her detective capabilities to the fore
Is it a tragic accident, suicide – or murder?And what happens when she starts trawling through the clues  – what else might she bring to the surface?
Travel Guide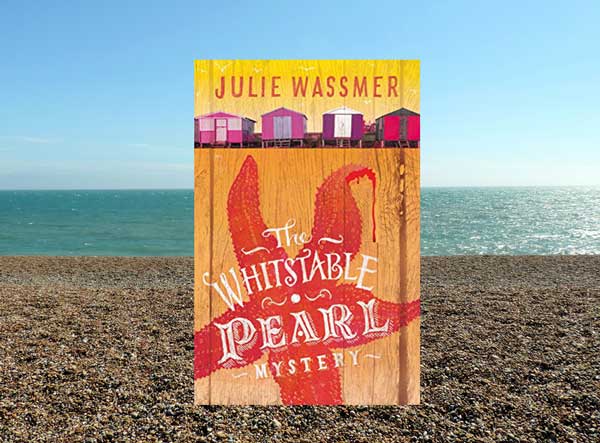 Living in Whitstable with its pebbled beach, harbour and varied demographic of locals and newcomers always made Pearl question the point of paying for a summer break elsewhere.
After years of struggling to survive, Whitstable now benefited from an almost year -long season, with visitors arriving in February, braving even the coolest winter in thirty years to spend Valentines breaks in one of the town's numerous B &Bs . Tourists rarely used the network of ancient alleyways, most of which had been constructed to create access to the town's main business place – the sea. A few centuries ago, these alley had always formed escape routes for smuggler, but now locals simply relied on them to cut through their journeys around town. Squeeze Gut, a the name suggested, sliced a quick and narrow route through to a row of dwellings on a stretch of road known as Island Wall.
With quaint, unpretentious clapboard facades, the charm of each seaside cottage could be found as the rear where gardens lay separated from the beach by just a low sea wall and a concrete promenade. Here on the 'promenade all of Whitstable came to saunter and swagger, drawn to a sea view of such clear Northern night that its skies and sunsets had been descried by the painter turner ass some of the loveliest in Europe
Booktrailer Review
Susan: @thebooktrailer

Spent a lovely Easter weekend reading this – totally immersed into the Whitstable location and the fishy goings on there (sorry) There's intrigue, mystery and more here with a small town crime with some very big consequences. The setting is very much part of the story and the many nuances, quirks and funny named streets appear, sprinkling local charm and a sense of community into the mix.

The characters are equally colourful – Pearl who owns the Whitstable Pearl cafe is a gem of the community doing the best for her son and setting up her detective agency despite running a busy seafood emporium. Dolly , her mother, well, she's just in a class of her own – or world of her own depending on which acerbic comment and put down you happen to be reading. I would love to see these two on the telly that's for sure!

I'm not sure if reading this in the Broadchurch build up had an affect but I could imagine the setting and the goings on in a similar vein. It was very clear, crisp and I swear it's that realistic and evocative you can hear the seagulls squarking above you and the scent of seasalt in the air. I wasn't tempted to try oysters but I ate more fish that weekend and it wasn't just the Easter influence! This book will make you want to move to a seaside town, eat fish and chips and soak in the atmosphere.

Can't wait to go back to Pearl's Whitstable!
Booktrail Boarding Pass: The Whitstable Pearl Mystery
Author/Guide: Julie Wassmer  Destination: Whitstable  Departure Time: 2000s
Back to Results