The Toll House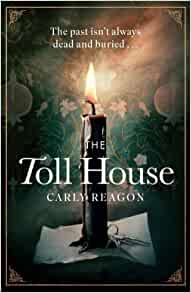 Why a Booktrail?
2020: A house with history….
What you need to know before your trail
The past isn't always dead and buried.
A house with history. That's how the estate agent described the old toll house on the edge of the town. For Kelda it's the perfect rural home for her young son Dylan after a difficult few years.
But when Kelda finds a death mask concealed behind one of the walls, everything changes. Inexplicable things happen in the house, Kelda cannot shake the feeling of being watched and Dylan is plagued by nightmares, convinced he can see figures in his room. As Dylan's behaviour becomes increasingly challenging, Kelda seeks answers in the house's mysterious past. But she's running out of time.
Because something has awoken.
And now it won't rest . . .
Travel Guide
The Toll House
The location of the house is never really specified but you can be sure it's somewhere deep and dark in the English or Welsh countryside. There's a few options on the map as it would be cool to take this and read it in a place called a toll house.
Imagine if it was really like this:
"The House was further away from the town than Kelda had expected, a mile or so along the Old Turnpike Road. She's spied it from  a distance, a darker smudge against the dull green=brown of the autumn fields."
"Apart from the house and a wood behind, the landscape was featureless."
BookTrail Boarding Pass: The Toll House
Destination/Location: England, Wales   Author: Carly Reagon  Departure: 2021
Back to Results