The Secrets of Ironbridge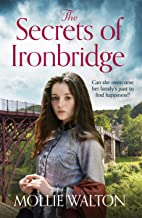 Why a Booktrail?
1850s: The second installment of the Ironbridge saga
What you need to know before your trail
Returning to her mother's birthplace at the age of eighteen, Beatrice Ashford encounters a complex family she barely knows. Her great-grandmother Queenie adores her, but the privileged social position of Beatrice's family as masters of the local brickworks begins to make her uncomfortable.
And then she meets Owen Malone: handsome, different, refreshing – and from a class beneath her own. They fall for each other fast, but an old family feud and growing industrial unrest threatens to drive them apart.
Can they overcome their different backgrounds? And can Beatrice make amends for her family's past?
Locations
Reset
England - Shropshire - Ironbridge
Travel Guide
Welcome back to Ironbridge, BookTrail style
This is the second installment of the series and looks at the brickmaking industry of the region in addition to the iron one. The author spoke to several brickmaking groups on social media and met an artisan brickmaker who taught her the details she would need in evoking the industry. She even went as far as to visit one of them at home and made a brick out of a piece of clay and a mould. Now that is author dedication!
She discovered just how backbreaking work this must have been back in the 1850s when people were expected to make up to 1000 bricks a day. The conditions of the factories were awful and the novel gives a good sense of how trying and hard they were for the people working there. Small children were even employed to carry the heavy lumps of clay.
The drama of low wages, rogue bosses, child labour and dirty conditions are all well evoked in this novel and series. Just think of the hard work these people achieved when they made bricks. Next time you look at a house or building, just think of the hours of hard work it would have taken the people in the novel!
Booktrailer Review
Susan:

This really is a great series. This second novel immerses you even more into the town of Ironbridge and its wonderful characters. This time there's two new characters to follow as we met Margaret and daughter Beatrice. Queenie, Margaret's grandmother, Queenie has called them back from France. What will they find in Ironbridge?

This outsider coming into the small community is a fascinating premise. There's a great sense of the industrial. Margaret's been away for years and her family is the owner of the local Brick and Tile works. The secrets in the title come from these changes and the discoveries made along the way. The problems that differences in social classes can bring are carefully explored and this really was moving to read about. In addition to that, there was the horror of discovering the reality of what working life in factories was like at the time. There really is so much rich detail and charaterisation here, it's hard not to feel part of the story and not just a reader.

I do love a saga but I feel Mollie has taken this in a whole new direction and created a wonderful snapshot of life back in 1850s Shropshire. After the recent flooding in the town, I felt especially moved even though I've never been there as I feel so attached and invested in it now due to these books.

Recommended.
BookTrail Boarding Pass: The Secrets of Ironbridge
Destination/location:  Ironbridge Author/guide: Mollie Walton   Departure Time: 1850s
Back to Results