The Secrets of Bridgewater Bay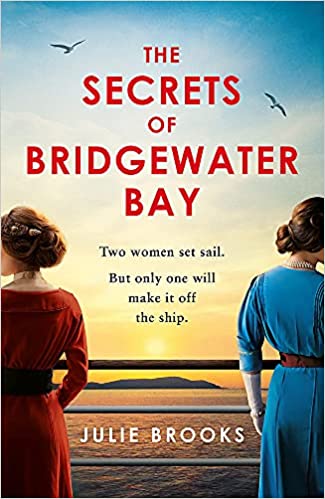 Why a Booktrail?
1919, 2016: Two women set sail for Australia. Only one will arrive.
What you need to know before your trail
England, 1919: Rose and Ivy board a ship bound for Australia. One is travelling there to marry a man she has never met. One is destined never to arrive.
Australia, 2016: Amongst her late-grandmother's possessions, Molly uncovers a photograph of two girls dressed in First World War nurses' uniforms, labelled 'Rose and Ivy 1917', and a letter from her grandmother, asking her to find out what happened to her own mother, Rose, who disappeared in the 1960s.
Compelled to carry out her grandmother's last wish, Molly embarks on a journey to England to unravel the mystery of the two girls whose photograph promised they'd be 'together forever' . . .
Travel Guide
From Devon to Australia with Julie Brooks
The locations in this novel are lovingly crafted and evoked. Everything from the boat journey to Australia to the discover of Luscombe Manor in Devon (fictional but great fun trying to find it!)
Australia
Very happy to discover that Bridgewater Bay is a real place. Melbourne also features in the novel but it is Port Fairy in Victoria where the main focus of the novel is set. Worth it to go there just for the name itself.
Tasmania – and Swansea is another place on the map of this novel.
North Devon
Slightly more vague in real locations but Ilfracombe and the fictional Luscombe Manor are the main settings here. The manor might not be real but great fun trying to find a stately home or manor house in the region where it could be!
Finally, a few chapters set in Sri Lanka and the port of Colombo but wait until you discover it for yourself
BookTrail Boarding Pass: The Secrets of Bridgewater Bay
Destination/Location: Victoria (Australia), Devon, Ceylon (Sri Lanka)  Author: Julie Brooks  Departure: 1919, 2017
Back to Results