The Peat Dead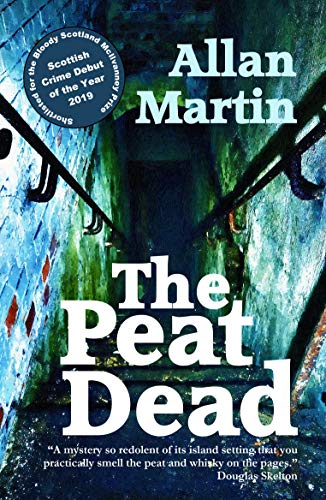 Why a Booktrail?
2022:  Five corpses are dug up by a peat-cutter….
What you need to know before your trail
On the Scottish Hebridean Island of Islay, five corpses are dug up by a peat-cutter. All of them have been shot in the back of the head, execution style.
Sent across from the mainland to investigate, Inspector Angus Blue and his team slowly piece together the little evidence they have, and discover the men were killed on a wartime base, over 70 years ago.
But there are still secrets worth protecting, and even killing for.
Locations
Reset
Scotland - Inner Hebrides - -Islay
Travel Guide
Isle of Islay
DI Angus Blue visits Kildalton churchyard.
"A walled enclosure, with a rusty iron gate, looked over a landscape emptied of habitation. The tall Celtic cross, cut in the Dark Ages out of hard greenish rock, was covered with vivid carvings of Bible figures. An object to incite wonder, to provoke worship. Its long shadow, cast by the autumn sun, stretched over lichened gravestones. Only the dead had not been cleared from the land.
Nearby stood the mediaeval church, a roofless testament to more of the departed. Inside its shell were gravestones of the chiefs. Carved out of the long slabs, life-size men like Norman knights, pointed helmets, chain mail hauberks, two-handed swords. So important in their time. Now nameless, and long gone. And of the nameless folk who followed them, and died for them, nothing at all.
Were there mass burials near here too? Villages on the coast wiped out by Viking raiders. Clansmen killed by hereditary foes. Young men doomed by pointless family feuds. Histories of killing."
DI Blue and PC Bhardwaj head for Dunyvaig Castle, where a gunman is hiding.
"They found the gap in the wall after Lagavulin village, and drove down the rough track. There was still a glow of red in the west and they could see the dark bulk of the house on the bluff ahead of them. There was a gravel parking area by the wall round the garden, and the silver Mercedes was parked there. A gate in the wall led to a door at the side of the house. A light was on in a downstairs room. Further to the right, the ruinous hump of Dunyvaig Castle stood on an isolated rock, across a low grassy area which ran down to the shore of Lagavulin Bay. The long, low white rectangular facade of the distillery glowed dully across the base of the bay, the huge black letters still visible."
BookTrail Boarding Pass: The Peat Dead
Destination: Islay Author/guide: Allan Martin Departure Time: 2022
Back to Results