The Other Passenger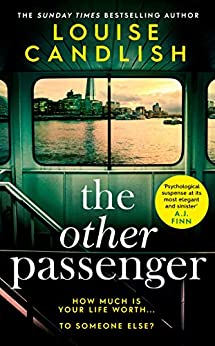 Why a Booktrail?
2000s: Going to work on a riverboat sounds interesting, right?
What you need to know before your trail
You're feeling pretty smug about your commute to work by riverboat. No more traffic gridlock or getting stuck on the tube in tunnels (you're claustrophobic). Now you've got fresh air, an iconic Thames view, a whole lifestyle upgrade. You've made new friends on board — led by your hedonistic young neighbour, Kit — and just had your first official 'water rats' get-together.
The day after the drinks, Kit isn't on the morning boat. The river landmarks are all the same, but something's off. When you disembark, the police are waiting. Kit's wife, Melia, has reported him missing and another passenger saw you arguing on the last boat home after your drinks. Police say you had a reason to lash out at him. To threaten him.
You protest. You and Kit are friends — ask Melia, she'll vouch for you. And who exactly is pointing the finger? What do they know about your private lives?
No, whatever coincidences might have occurred last night, you are innocent, totally innocent.
Aren't you?
Travel Guide
Travel along the Thames with Louise Candlish
This is perhaps the most unusual setting for a booktrail you will ever see – a journey to work along the Thames where someone disappears.
The journey is one on a catamaran and the characters in the book are using it to get to work. Now that is one of the most interesting commutes ever! Beats the London traffic!
Stops include all real places and piers you could actually visit. Even via a catamaran if you're a method reader 😉
Booktrailer Review
Twistier than the Thames itself. A great premise with characters you're going to love to hate.  Louise Candlish really does put her characters in some very challenging situations!
BookTrail Boarding Pass: The Other Passenger
Destination/location: London Author/guide:  Louise Candlish  Departure Time: 2000s
Back to Results