The Night Portrait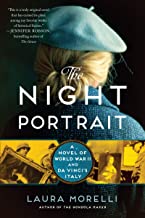 Why a Booktrail?
1452: The story behind one of Da Vinci's most iconic paintings
What you need to know before your trail
Milan, 1492: When a 16-year old beauty becomes the mistress of the Duke of Milan, she must fight for her place in the palace—and against those who want her out. Soon, she finds herself sitting before Leonardo da Vinci, who wants to ensure his own place in the ducal palace by painting his most ambitious portrait to date.
Munich, World War II: After a modest conservator unwittingly places a priceless Italian Renaissance portrait into the hands of a high-ranking Nazi leader, she risks her life to recover it, working with an American soldier, part of the famed Monuments Men team, to get it back.
Two women, separated by 500 years, are swept up in the tide of history as one painting stands at the center of their quests for their own destinies
Travel Guide
Discover the world of Leonardo da Vinci – Milan and Munich
Between 1939 and 1943, the Nazis stole every known painting by Leonardo Da Vinci, imprisoning the original owners or worse. This is the story of the most infamous of these thefts…
Lady with an Ermineis a portrait painting from 1489–1490 by Italian artist Leonardo da Vinci. Painted in oil on walnut panel, it is housed in the Czartoryski Museum and is one of Poland's national treasures.
The portrait's subject is Cecilia Gallerani,- mistress of Ludovico Sforza, Duke of Milan. Leonardo was in the Duke's service.
It is one of only four portraits of women painted by Leonardo, the others being the Mona Lisa, Ginevra de' Benci, and La Belle Ferronnière.
BookTrail Boarding Pass: The Night Portrait
Destination/location: Munich, Milan Author/guide: Laura Morelli Departure Time: 1492
Back to Results