The Mad Women's Ball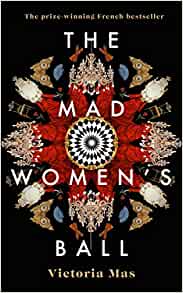 Why a Booktrail?
1885:  All of Paris is in thrall to Doctor Charcot who works at the Salpêtrière asylum.
What you need to know before your trail
The Salpêtrière asylum, 1885. All of Paris is in thrall to Doctor Charcot and his displays of hypnotism on women who have been deemed mad or hysterical, outcasts from society. But the truth is much more complicated – for these women are often simply inconvenient, unwanted wives or strong-willed daughters. Once a year a grand ball is held at the hospital. For the Parisian elite, the Mad Women's Ball is the highlight of the social season; for the women themselves, it is a rare moment of hope.
Geneviève is a senior nurse. After the childhood death of her sister, she has shunned religion and placed her faith in Doctor Charcot and his new science. But everything begins to change when she meets Eugénie, the 19-year-old daughter of a bourgeois family. Because Eugénie has a secret, and she needs Geneviève's help. Their fates will collide on the night of the Mad Women's Ball…
Travel Guide
Travel back in time to  The Salpetriere, Paris
In 1885, the Salpetriere, now a hospital, was an institute for the insane. The women, the incarcerated women are at the mercy of the doctors and nurses there. The most prominent doctor is the infamous or infamous Dr. Charcot
The reader gets to meet and hear the voices of four women. One of these is  a nurse there, two are patients and the last is  a young woman from a wealthy family whose father brings her when he realises she can communicate with the dead.
Life and treatment inside the Institute shows it as a harsh and unforgiving environment:
" Truth be told, whether free or incarcerated, women were not safe anywhere. Since the dawn of time, they had been the victims of decisions that were taken without their consent. "
BookTrail Boarding Pass: The Mad Women's Ball
Destination/location: Paris Author/guide:  Victoria Mas  Departure Time: 1885
Back to Results