The House Beneath the Cliffs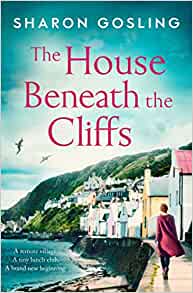 Why a Booktrail?
2000s: A remote yet beautiful village. A tiny kitchen lunch club. The perfect place to start again.
What you need to know before your trail
Anna moves to Crovie, a tiny fishing village on the Moray Firth, for a fresh start. But when she arrives, she realises her new home is really no more than a shed, and the village itself sits beneath a cliff right on the edge of the sea, in constant danger of storms and landslides. Has she made a terrible mistake?
Yet as she begins to learn about the Scottish coast and its people, something she thought she'd lost reawakens in her. She rediscovers her love of cooking, and turns her kitchen into a pop-up lunch club. But not all the locals are delighted about her arrival, and some are keen to see her plans fail.
Will Anna really be able to put down roots in this remote and wild village? Or will her fragile new beginning start to crumble with the cliffs . . . ?
Travel Guide
BookTrail it to Crovie in Scotland
The author and her husband first visited the village of Crovie in 2017.She says in her author note that she had always been drawn to the idea of living somewhere impractical and that Crovie sparked off her imagination.
She spotted a mill pony shed that became the Fisherman's Luck. The building is actually in another fishing village but once she had visited Crovie, she 'moved' the shed there. Gardenstown is visible across the bay.
Crovie in the novel is an impression of Crovie in real life. The real one is however busier and people there are proud to keep the village as traditional as possible and keep a way of life no longer in existence but still important to remember.
BookTrail Boarding Pass: The House Beneath the Cliffs
Destination/location: Crovie, Gardenstown  Author/guide: Sharon Gosling Departure Time: 2000s
Back to Results