The Dying Squad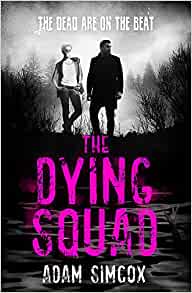 Why a Booktrail?
2000s: Dying is hell…solving your own murder is purgatory.
What you need to know before your trail
When Detective Inspector Joe Lazarus storms a Lincolnshire farmhouse, he expects to bring down a notorious drug gang; instead, he discovers his own dead body and a spirit guide called Daisy-May.
She's there to enlist him to the Dying Squad, a spectral police force made up of the recently deceased. Joe soon realises there are fates far worse than death. To escape being stuck in purgatory, he must solve his own murder. A task made all the more impossible when his memories start to fade.
Reluctantly partnering with Daisy-May, Joe faces dangers from both the living and the dead in the quest to find his killer – before they kill again.
Travel Guide
BookTrail it to Lincolnshire with The Dying Squad
Straight from the author's mouth: read the full AuthorsonLocation piece here
The Lincolnshire featured in my debut novel The Dying Squad is a vicious, bleak, uncompromising place, full of cutthroat county lines gangs, endless, cloud filled skies, and murder lurking round every hedgerow. Thankfully, the Lincolnshire I grew up in is very different to the Lincolnshire depicted in the book, but it features many real life locations.
The Wolds
The views from the wolds winding country roads are genuinely spectacular, and feature heavily at the conclusion of The Dying Squad.
Alford
The small market town of Alford isn't mentioned specifically in The Dying Squad, but it was the source of inspiration when Joe Lazarus, our hero, attends his own funeral.
Anderby
When Joe's deep into investigating his own murder, he comes across a beach café in Anderby Creek, a small village right next to the sea.
Skegness/Mablethorpe
I freely admit I have a love/hate relationship with the seaside towns of Skegness and Mablethorpe. One thing I unreservedly love is the rich material they provide for Joe, and his ghostly partner Daisy-May to investigate Joe's own murder.
BookTrail Boarding Pass: The Dying Squad
Destination/location: Lincolnshire  Author/guide:  Adam Simcox  Departure Time:  2021
Back to Results