The Cutting Place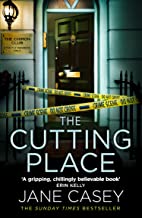 Why a Booktrail?
2000s: You've got to be in the club to know the truth.
What you need to know before your trail
Everyone's heard the rumours about elite gentlemen's clubs, where the champagne flows freely, the parties are the height of decadence . . . and the secrets are darker than you could possibly imagine.
DS Maeve Kerrigan finds herself in an unfamiliar world of wealth, luxury and ruthless behaviour when she investigates the murder of a young journalist, Paige Hargreaves. Paige was working on a story about the Chiron Club, a private society for the richest and most privileged men in London. Then she disappeared.
It's clear to Maeve that the members have many secrets. But Maeve is hiding secrets of her own – even from her partner DI Josh Derwent. Will she uncover the truth about Paige's death? Or will time run out for Maeve first?
Travel Guide
A visit to a few exclusive clubs around London
In the novel, the Chiron Club is a private society for the richest and most privileged men in London. The plot tackles those all too familiar issues of male privilege and violence against women. Apt for the times of the MeToo movement.
London high class clubs and secret meeting places for the rich, gentleman and high-fliers are examined and explored. This city is a tough place, journalists venture where many others do not. When someone enters or tries to enter the high level of society, there are traps all around them.
DS Maeve Kerrigan and DI Josh Derwent venture into this secretive and clandestine world.
BookTrail Boarding Pass: The Cutting Place
Destination/location: London Author/guide: Jane Casey  Departure Time: 2000s
Back to Results