The Cottingley Cuckoo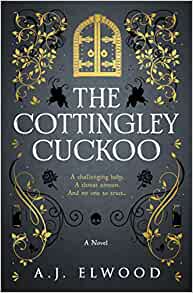 Why a Booktrail?
1920: Arthur Conan Doyle hears about two girls who claim to have photographed fairies
What you need to know before your trail
Captivated by books and stories, Rose dreams of a more fulfilled life, away from the confines of the Sunnyside Care Home where she works to support herself and her boyfriend. She hopes the situation will be short term.
Charlotte Favell, an elderly resident, takes a strange, sinister interest in Rose, but offers an unexpected glimpse of enchantment. She has a mysterious and aged stack of letters about the Cottingley Fairies, the photographs made famous by Arthur Conan Doyle, but later dismissed as a hoax. The author of the letters insists he has proof that the fairies exist; Rose is eager to learn more, but Charlotte only allows her to read on when she sees fit.
Discovering she is unexpectedly pregnant, Rose feels another door to the future has slammed. The letters content grows more menacing, inexplicable events begin to occur inside her home, and Rose begins to entertain dark thoughts about her baby and its origins. Can this simply be depression? Or is something darker taking root?
Locations
Reset
England - Yorkshire - Cottingley
Travel Guide
The mystery of the Cottingley Fairies
The Cottingley Fairies  caused great excitement and controversy when two young girls claimed to have photographed fairies near their home in 1917.
Elsie Wright (1901–1988) and Frances Griffiths (1907–1986), were two young cousins who lived in Cottingley and took photographers when Elsie was 16 years old and Frances was 9.
The pictures came to the attention of writer Sir Arthur Conan Doyle, who used them to illustrate an article on fairies he had been commissioned to write for a magazine. Doyle was a spiritualist and interpreted them as clear and visible evidence of psychic phenomena. The public reaction was half and half. Some believed the pictures were real and others suspected trickery.
BookTrail Boarding Pass: The Cottingley Cuckoo
Destination/location: Cottingley  Author/guide:  A. J Elwood Departure Time: 1917
Back to Results