The Corpse with the Sapphire Eyes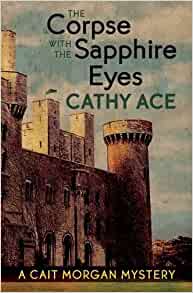 Why a Booktrail?
2000s: "Don't panic, Cait. This death will not spoil our wedding. I promise."
What you need to know before your trail
It's Cait and Bud's wedding weekend and nothing is going as planned. The weather in Wales is terrible, the "romantic" castle they chose for their destination wedding feels creepy, and now there's a dead man at the foot of the stairs.
Bud assures her that the death of the choirmaster is nothing more than an unfortunate accident, but the bride cannot help but suspect the worst. With the only bridge to the castle washed out by the storm, Cait surmises that the murderer is still in their midst, and sets out to catch the culprit. She knows she has to solve the case before something, or someone, prevents her from finally saying "I do."
Travel Guide
BookTrail the castles in Wales
Castel Llwys is fictional but there are real castles in Wales for you to explore and decide which one could be the one in the novel.
Welcome to Castell LLwys
Fictional but inspired by so many of the castles in the country. The castle in the novel is around an hour's drive from the nearest town. The castle is isolated at the best of times but when a storm comes and causes the bridge to collapse  – the only bridge to link the castle to the mainland – there is no way in or out. The isolation ramps up big time.
The setting of Wales in general and the smattering of welsh words is nicely done and you get to learn some of the local lingo and dialect!
There's a nice mention of another world too – the ravalry which is an online club for knitters and crochet fans.
BookTrail Boarding Pass: The Corpse with the Sapphire Eyes
Destination/location: Wales  Author/guide: Cathy Ace  Departure Time: 2000s
Back to Results