The Coming Darkness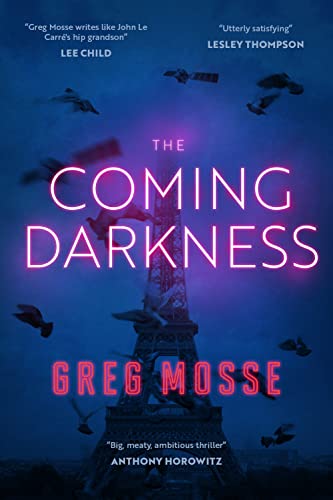 Why a Booktrail?
2037: Can he stop the coming darkness in Paris?
What you need to know before your trail
Paris, 2037. Alexandre Lamarque of the French external security service is hunting for eco-terrorists. Experience has taught him there is no one he can trust. Experience has taught him there is no one he can trust – not his secretive lover Mariam, not even his old mentor, Professor Fayard, the man at the centre of the web. He is ready to give up. But he can't.
In search of the truth, Alex must follow the trail through an ominous spiral of events, from a string of brutal child murders to a chaotic coup in North Africa. He rapidly finds himself in a heart-thumping race against chaos and destruction. He could be the world's only hope of preventing THE COMING DARKNESS .
Travel Guide
Paris and Cyrenia
The author states:
Paris gives shape and structure to my novel. It takes me east and west, north and south on an imaginary map that I have overlaid on the city of then and the city of now – because my action is set in 2037 and everything is the same, but more so. More homelessness, more environmental degradation, more concern over transgenic disease.
The same for North Africa, except world events shaped my choice of Libya instead of Morocco, imagining a fragmented nation (Libya already is) with a successful secession for an invented region I call Cyrenia (which doesn't really exist, though it is the name the place went by in antiquity).
BookTrail Boarding Pass: The Coming Darkness
Destination:  Paris, Africa Author/guide:  Greg Mosse Departure Time: 2037
Back to Results