The Collector's Daughter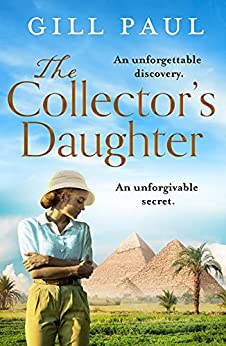 Why a Booktrail?
1922: An unforgettable discovery inside the lost tomb of Tutankhamun
What you need to know before your trail
In 1922, Lady Evelyn Herbert's dreams are realised when she is the first to set foot inside the lost tomb of Tutankhamun for over 3,000 years.
A cursed life
But the months after the discovery are marred by tragedy, when Eve's father dies suddenly and her family is torn in two. Desperate to put the past behind her, Eve retreats into a private life with her new husband. A deadly choice.
But she is harbouring a dark secret about what really happened in Egypt. And when a young woman comes asking questions years later, the happiness Eve has finally found is threatened once more…
Travel Guide
Travel to Tutenkhamun's tomb with Gill Paul
The story of Tutankhamun is told through the eyes of Lady Evelyn Beauchamp, the daughter of Lord Carnarvon, the family who owned Highclere Castle in Berkshire. This castle is perhaps more famously known as Downtown Abbey thanks to the popular TV drama.
Lady Evelyn was with her father and Howard Carter when Tutankhamun's tomb was opened and spent the rest of her life dealing with its aftermath – or curse….
The author includes pictures of Evelyn beside the infamous tomb and she explains how Evelyn was there but is often missed by history books. She was part of a trio who illicitly entered the tomb before the official opening.
The famous story
The tomb of young pharaoh Tutankhamun is located in the Valley of the Kings, near Thebes, Egypt (modern-day Luxor). Lord Carnarvon employed British Egyptologist Howard Carter to excavate the site. The official opening of the tomb took place on November 29, 1922, with the first press report, in The Times, appearing the next day.
Booktrailer Review
I just loved everything about this fascinating story. Such a unique viewpoint, well-written and evocative.  Gill Paul is the author who delivers more than you expect. Glorious!
BookTrail Boarding Pass: The Collector's Daughter
Destination/location: London, Berkshire, Luxor Author/guide:  Gill Paul Departure Time: 1922
Back to Results