The Appeal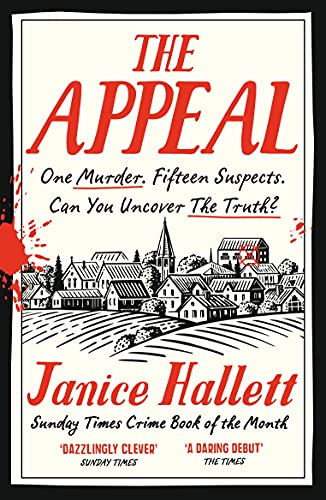 Why a Booktrail?
2000s: ONE MURDER. FIFTEEN SUSPECTS. CAN YOU UNCOVER THE TRUTH?
What you need to know before your trail
There is a mystery to solve in the sleepy town of Lower Lockwood. It starts with the arrival of two secretive newcomers, and ends with a tragic death. Law students Charlotte and Femi have been assigned to the case. Someone has already been sent to prison for murder, but they suspect that they are innocent. And that far darker secrets have yet to be revealed…
Throughout the amateur dramatics society's disastrous staging of All My Sons and the shady charity appeal for a little girl's cancer treatment, the murderer hid in plain sight. Will Charlotte and Femi solve the case? Will you?
Travel Guide
A mystery and appeal in Lockwood, England
Lockwood is fictional. It could be any English village. The setting is not that important but it is clearly set in a small village with an even smaller close-knit community.
Lockwood
A town somewhere in England. Martin and Helen Hayward own The Grange and run the amateru dramatic society, The Fairway Players.
Booktrailer Review
I've only read this book once but I feel I should read it again. It's so unique and very very clever but I didn't fully appreciate it for some reason. It's all written in emails and we the readers are reading this at the same time as two law students. There's a murder to solve and we are there with them to solve it. Well, I wouldn't have been the one that raised her hand to tell them the answer haha!

I did feel very much a part of the storyline though. The reader is another character in themselves which I have never felt before. Not on this level. The clues are there, in the text and only now I can think back to what I missed or might have misinterpreted.

Set in the small, fictional town of Lockwood, this is a story about a small community. Many of the characters are actors in an amateur dramatic society and The Grange where Martin and Helen live. They are the leading figures of the town and Helen often plays the leading lady. Two nurses from Africa join the town and the theatre group. There's something not quite right there I thought. Newcomers? What do they want? Why are they writing to someone at the hospital? What are they not saying? What about the two at the Grange – does money hide a crime?

The story goes from one direction and thread to another – the newcomers, the appeal to raise money for a sick child, the Grange, the drama club and so much more. It did get a little busy at times and the email format doesn't always lend itself to following the plot or getting to know the characters. At least not for me.

As I read however, things became very normal and a lot smoother. I found my reading feet as it were and then the story really came into its own. This was like a reading experiment I felt part of! Ah the feeling of wanting to hug the characters…but then I realised one was a killer so ….I held back but was glowing inside. I've always wanted to be Columbo's sidekick if he had one – now I feel I have made that leap albeit in a book.

I'd recommend this one. A puzzle that takes a while to get used to but oh boy it's a heck of a lot of fun when it clicks into place.
BookTrail Boarding Pass: The Appeal
Destination/location: England, 'Lockwood'  Author/guide:  Janice Hallett Departure Time: 2000s
Back to Results