Sunset Swing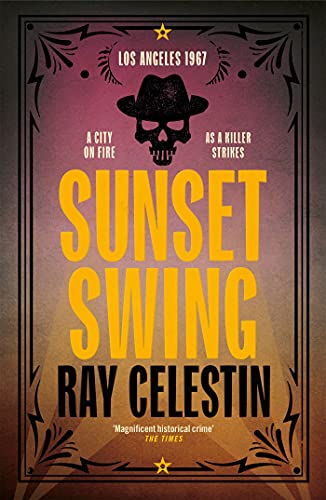 Why a Booktrail?
1967: Los Angeles. A city on fire as a killer strikes . . .
What you need to know before your trail
A young nurse, Kerry Gaudet, travels to the City of Angels desperate to find her missing brother, fearing that something terrible has happened to him: a serial killer is terrorising the city, picking victims at random, and Kerry has precious few leads.
Ida Young, recently retired Private Investigator, is dragged into helping the police when a young woman is discovered murdered in her motel room. Ida has never met the victim but her name has been found at the crime scene and the LAPD wants to know why . . .
Meanwhile mob fixer Dante Sanfelippo has put his life savings into purchasing a winery in Napa Valley but first he must do one final favour for the Mob before leaving town: find a bail jumper before the bond money falls due, and time is fast running out.
Travel Guide
BookTrail it to 1967 Los Angeles
This is a city on the edge. A city evoked in fire and gory violence. A city in fear as a serial killer seems to be targeting certain people but who exatly and why?
This is a city which is so vividly drawn in both words and images that you can't help but use your five senses to get a full picture of the city where this story unfolds:
"LA was sunshine; LA was darkness. LA was the golden dream and the broken promise."
"LA was heroine country, a junkie's dream , a city in a pacific embrace…"
There's a Santa Ana wind coming and we journey around the city as this is happening. People are nervous and wary. We visit motel rooms on the edge of town, view the city from a far from unknown viewpoints and then find ourselves in dark, dingy dark corners. There's a prison visit and then Louis Armstrong and his jazz waves into town…..
This is a city where the people seem to fear the LAPD almost as much as the criminals themselves, if not more so. Corruption lives amongst the residents.
BookTrail Boarding Pass: Sunset Swing
Destination:  Los Angeles Author/guide: Ray Celestin Departure Time: 1967
Back to Results