Red Corona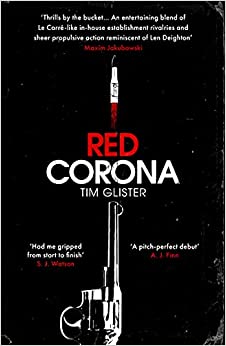 Why a Booktrail?
1961 : The white heat of the Space Race is making the Cold War even colder.
What you need to know before your trail
Richard Knox is a secret agent in big trouble. He's been hung out to dry by a traitor in MI5, and the only way to clear his name could destroy him.
Meanwhile in a secret Russian city, brilliant scientist Irina Valera makes a discovery that will change the world, and hand the KGB unimaginable power.
Desperate for a way back into MI5, Knox finds an unlikely ally in Abey Bennett, a CIA recruit who's determined to prove herself whatever the cost…
As the age of global surveillance dawns, three powers will battle for dominance, and three people will fight to survive.
Travel Guide
BookTrail Red Corona set in London and Russia
The novel has a few locations including London and California but it's the secret Russian one that is the most interesting
The Republic of Karelia is a region in northwest Russia, bordering Finland. . In Karelia, there is  a secret science city, Povenets B and this is where research scientist, Irina Valera, is based with her young son, Ledjo.
Meanwhile, the novel takes you across the globe and perfectly captures the atmosphere and threats of the Cold War era.
The KGB, MI5, MI6 and the CIA are all working to lure Russian scientist Irina Valera. This is an international tale of duplicity and espionage.
Booktrailer Review
I picked this up as I was compelled by it despite not really likening spy novels. Well, this could be the one that turns that on its head! Completely engaging and compelling. This guy has a way of making a complex subject (to me) interesting and page turning!

You can tell the level of research Tim has done to get this story into an easy to understand and navigate thriller. Impressive for a debut!

The setting of the Cold War and the 'war' on so many front between the various spy agencies of various countries was something I had never read before. We are taken to the heart of Mi5 and how an agent is now suspected of being a traitor. There's an atmosphere of suspicion and doubt everywhere and as a reader, I found myself in London, Russia and a few places in between in some of the most claustrophobic settings ever! The secret town in the Russian woods for example was VERY interesting.

Tim really has brought this secretive period of history to life and the tension throughout is passable. There's so much to get your teeth into and I thoroughly enjoyed it. If political history at university had been this interesting…..

Recommended!
BookTrail Boarding Pass: Red Corona
Destination/location: London, Russia  Author/guide:  Tim Glister Departure Time: 1940s
Back to Results